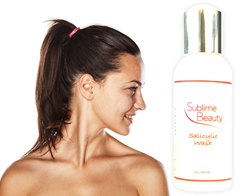 Not only is the Salicylic Cleanser 25% Off, but the company offers Free Shipping and a VIP Club to earn points for future discounts.
St. Petersburg, FL (PRWEB) September 11, 2014
The anti-aging Salicylic Wash is 25% off today, with free shipping from Sublime Beauty.
Salicylic Acid is a beta-hydroxy, and a favored ingredient for both aging skin and oily skin because it loosens grime and dead cells, cleanses at the follicle level and exfoliates what should be exfoliated. It helps keep pores unclogged as well.
"Our new cleanser feels good to the skin and smells great," says Kathy Heshelow, founder of Sublime Beauty®. "It is a perfect addition to an aging skincare program."
Salicylic Acid is at 2% in the new cleanser, and beneficial ingredients aloe and chamomille are also included. It is ideal for oily skin as well, and helps those with the combination skin and the oily "T-zone".
The Sublime Beauty® wash is made in the U.S. without animal testing and contains no parabens.
Get 25% Off today with coupon code 25WASH at the Sublime Beauty Webstore. Earn 200 VIP bonus points plus points for the purchase.
ABOUT: Sublime Beauty® is a quality skincare company that focuses on products to "Age Younger". Ingredients help to boost collagen, hydrate, relax wrinkles and improve skin. A niche includes healthy Skin Brushes. The company webstore offers free standard shipping and a VIP Club. Sign up for Secret Sales on the site. Products also available on Amazon.