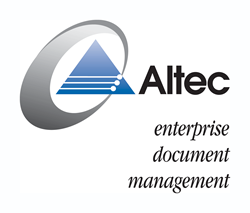 Laguna Hills, CA (PRWEB) September 11, 2014
Altec Products, Inc., a leader in enterprise document management and workflow solutions, announced today their Emerald Sponsorship of America's SAP Users' Group (ASUG) SAP Business One Summit. The annual conference will take place at the Renaissance Schaumburg Convention Center Hotel in Schaumburg, IL from September 15 – 17, 2014, offering an indispensable opportunity for small and medium-sized businesses to receive an extensive overview on streamlining business processes and making sound business decisions.
Celebrating its fifth year, the conference has listened to SAP users and will provide what they have asked for: a singular setting where attendees will have the opportunity to gain the tools necessary to thrive in their businesses. SAP customers new and old, resellers, providers and staff will exchange valuable knowledge and experience, influencing each other and the future development of SAP Business One solutions.
The 2014 conference agenda will feature keynote speeches, educational sessions, workshops, panel discussions and receptions for networking. Attendees will hear first-hand from SAP Business One experts, solution partners such as Altec and customers. On Tuesday, September 16th at 3:20pm, Altec Sales Director Richard Simmons will present "Go Paperless with doc-linkTM Integrated Management by Altec." The session will profile "a day in the life of" various employees throughout organizations, identifying their unique paper inefficiencies and showcasing the key benefits of using a document management solution to go paperless.
Richard Simmons comments, "doc-link's seamless integration to SAP Business One allows users to deliver additional value to their ERP solution and streamline critical business processes in any department and process. With doc-link's remarkable ROI and exciting forthcoming upgrades—including additional workflow capabilities from the doc-link Web Client—this session will be a worthwhile investment of attendees' time."
To learn more about the 2014 ASUG SAP Business One Summit and/or register, visit http://www.asugonline.com/business-one.
About the 2014 ASUG SAP Business One Summit
The ASUG SAP Business One Summit is the only customer-driven event of its kind in North America, dedicated to offering SAP Business One users in any data environment a variety of educational and hands-on sessions presented by customers, partners and SAP.
For more information on ASUG, please visit the http://www.asug.com/about/media-room.
About Altec
Altec is a leading provider of Integrated Document Management (IDM) solutions to mid-market companies. For more than 25 years, Altec has provided a wide range of accounting-centric paper to paperless solutions including its flagship product, doc-link™, which enables companies to capture, archive, workflow and route structured and unstructured documents to customers, employees and vendors. Altec's comprehensive solutions include IDM, output management, MICR check disbursement and paper documents that serve more than 13,000 customers worldwide. Altec enjoys strong, collaborative partnerships with ERP solution providers like SAP to provide the most comprehensive, integrated enterprise document management solution. Altec delivers its IDM solutions through a global network of authorized partners in more than 60 countries throughout the Americas, EMEA and Asia Pacific. For more information, visit Altec at the company website at http://www.altec-inc.com. Follow them on Twitter.com/doclinkbyAltec or call April Blankenship at 1-800-997-9921.
###