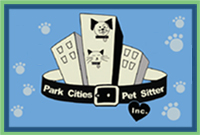 "Adding the new 15-minute visit option for recurring visit clients really addressed the specific needs of some of their pets in a better way."Joette White, President of Park Cities Pet Sitter
Dallas, Texas (PRWEB) September 16, 2014
Beginning October 1st 2014, Dallas' Park Cities Pet Sitter is adding a new service offering for its clients who book a recurring visit schedule, and thus receive service discounts due to the volume of business they buy. Most recurring visit clients are ones that book daily dog walks during the work week, but others include clients whose unique work schedules or lifestyles simply require use of a pet sitter on a daily basis. The newly introduced 15-minute visit length will only be available for recurring visit clients, and will be billed at a nominal rate of $18.00/visit. The 15-minute visit option for recurring visit clients is a shorter visit than the previous sole option recurring visit clients had, the 20-30 minute visit.
Park Cities Pet Sitter President, Joette White, chose to add this service offering for her recurring visit clients because many such clients had specific situations with their pets that really required less time than 20 to 30 minutes. Ms. White said, "Many clients that hire us for daily dog walks have senior pets, and due to their pets' arthritis or other health issues, they really do not need a long walk. In addition, we have some recurring visit clients who simply need us to administer medication for a pet during a particular time window, which simply does not require our regular 20-to-30 minute length visit. We really want to be sensitive to what our clients' needs are, so we decided that adding the new 15-minute visit option for recurring visit clients really addressed the specific needs of some of their pets in a better way."
Ms. White is optimistic that her current and new recurring visit clients will appreciate the two service length types that they can choose from. She also believes that the new, shorter 15-minute visit, with its lower $18.00 cost, will encourage new clients to sign up for daily dog walks for the first time. "We are aware that hiring a pet sitter to walk a dog on a daily basis is a luxury that not everyone can afford. But we also hope that by offering a slightly lower cost option for clients who would like to hire a pet sitter on a set schedule will give them greater peace of mind that they are getting a valuable service at a reasonable rate," said Ms. White.
While Ms. White expects that many Park Cities Pet Sitter recurring visit clients will take advantage of the new 15-minute visit offering, a small percentage of clients will unfortunately not be eligible to use the new, shorter visit offering. Clients residing in hi-rise buildings, or clients in large apartment complexes where parking is sparse and thus it is difficult to quickly get in and out of the building quickly may not be eligible for this type of shorter visit.
Park Cities Pet Sitter, Inc. has served the Dallas area 7 days a week, 365 days a year since 1992. Pet sitting, daily dog walks, pet taxis, overnight sitting, pet supply shopping, litter box cleaning and dog training are all part of the services PCPSI offers. Park Cities Pet Sitter is bonded and insured, and all sitters are employees--not independent contractors. A manager is on-call 24 hours a day to handle any emergencies. Additional information about Park Cities Pet Sitter can be found on their website at http://www.pcpsi.com.