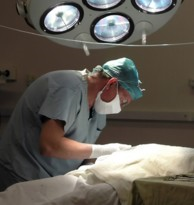 This study confirms that lymph node status is significantly correlated with overall survival...
Raleigh, NC (PRWEB) September 12, 2014
One of the top practitioners of a radical mesothelioma surgical approach called extrapleural pneumonectomy (EPP) says lymph nodes appear to play an important role in how long patients survived after the procedure. Surviving Mesothelioma has just posted details of the new study. Click here to read the article now.
Dr. David Sugarbaker, head of the Lung Institute at Baylor College of Medicine in Texas, and his colleagues studied 529 pleural mesothelioma patients who underwent EPP between 1988 and 2011. Patients with little or no cancer in their lymph nodes had the best post-surgical outcomes.
"This study confirms that lymph node status is significantly correlated with overall survival in patients with epithelioid malignant pleural mesothelioma undergoing EPP," write Dr. Sugarbaker, lead author of the study.
The study, published in the Annals of Surgery, found that patients whose mesothelioma had spread into both sets of lymph nodes closest to the tumor had a median survival half as long as those who had no lymph node involvement.
"This study underscores the fact that staging provides more than a way to predict prognosis," says Alex Strauss, Managing Editor of Surviving Mesothelioma. "It is also a key part of selecting the best candidates for radical mesothelioma surgery."
For complete details of the study and its results, see Mesothelioma Surgeon Says Proper Staging Key to Radical Surgery Survival now available on the Surviving Mesothelioma website.
Sugarbaker, D et al, "Extrapleural Pneumonectomy in the Treatment of Epithelioid Malignant PleuralMesothelioma: Novel Prognostic Implications of Combined N1 and N2 Nodal Involvement Based on Experience in 529 Patients", October 2014, Annals of Surgery, pp. 577-582. http://journals.lww.com/annalsofsurgery/Abstract/2014/10000/Extrapleural_Pneumonectomy_in_the_Treatment_of.2.aspx
For nearly ten years, Surviving Mesothelioma has brought readers the most important and ground-breaking news on the causes, diagnosis and treatment of mesothelioma. All Surviving Mesothelioma news is gathered and reported directly from the peer-reviewed medical literature. Written for patients and their loved ones, Surviving Mesothelioma news helps families make more informed decisions.