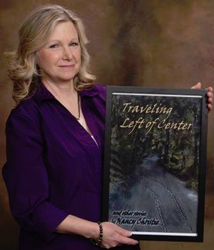 Nancy Christie's short stories are brilliant, disturbing, and exquisitely written. Hers is a hypnotic, lyrical voice that captures your heart with its deep, rich humanity.
(PRWEB) September 12, 2014
For Ohio author Nancy Christie, the publication of her short fiction collection, "Traveling Left of Center and Other Stories," by Pixel Hall Press was definitely a cause for celebration. But Christie decided to take it one step further and turn her September 21st book launch party into a fund-raiser for the Rescue Mission of the Mahoning Valley. Recognizing the valuable service the non-profit provides to the Valley, Christie will personally donate $1 for each book sold during her book launch event to the Rescue Mission.
"'Traveling Left of Center and Other Stories' is a collection of 18 stories about people who are lost, lonely and afraid, people who have been marginalized for one reason or another, those who desperately want a way out of their pain as well as those who have given up hope of there being an escape," Christie explained. "And in many ways, this description also fits those who have come to rely on the Rescue Mission for services and support. For decades, the Rescue Mission has actively supported those in need—men, women and children, families and single people, the young and the old. It's my hope that the community will use this opportunity to support this organization—and, of course, get a great read in the process."
Lynn Wyant, Director of Development for Rescue Mission of Mahoning Valley said, "What a great idea Nancy had to involve the Rescue Mission of Mahoning Valley with her book launch. We are so thankful that a portion of the proceeds from sales at her 'Traveling Left of Center and Other Stories' book launch will be put to use to care for the needy in the Valley."
About the Book Launch Party
"The Traveling Left of Center and Other Stories" book launch event will take place Sunday, September 21 from 2 to 4 PM at Peaberry's Café at 4350 Boardman-Canfield Road, Canfield, Ohio.
The book launch is open to the public. All guests will receive coupons for free Pixel Hall Press short stories and book excerpts. In addition, Christie will have a drawing for a Peaberry's $15 gift certificate.
Christie will personally autograph copies of "Traveling Left of Center and Other Stories" which will be available for sale.
"Having the signing party at Peaberry's Café," Christie explained, "is a natural choice since that's also the 'home' of our monthly Monday Night Writers group."
About the Book
"Traveling Left of Center and Other Stories" is now available as a quality paperback and eBook (in all formats) from most bookstores, including Amazon, Barnes & Noble, Apple iBookstore, and local independent bookstores.
About Nancy Christie
Nancy Christie is a full-time writer whose passion is fiction. Having written for numerous magazines and journals, her short stories can be found in literary publications such as "Full of Crow," "Fiction365," "Red Fez," "Wanderings," "The Chaffin Journal" and "Xtreme." Christie is currently working on several other book projects, including a novel and a book for writers. She is the founder of "Celebrate Short Fiction" Day. A member of the American Society of Journalists and Authors, Nancy teaches workshops at writing conferences and schools across the country and hosts the monthly Monday Night Writers group in Canfield, Ohio
About Pixel Hall Press
Pixel Hall Press is a relatively new, old-fashioned small publishing house whose focus is on discovering literary gems and great stories that might otherwise be overlooked. Our mission is to publish books that energize the imagination and intrigue the mind, and to be a conduit between readers and provocative, stimulating, talented authors.
In this era of digital technology, Wall Street involvement and merger mania, many mainstream publishers
seem to have lost sight of core principles and the purpose of publishing. At the other end of the spectrum is
the veritable avalanche of self-published books that are notoriously uneven in quality. Small boutique
imprints like Pixel Hall Press are reclaiming the heart and soul of publishing by reviving the idea that a
publisher's raison d'être is finding and nurturing great writers, and to provide readers with beautiful,
meaningful, truly enjoyable books.