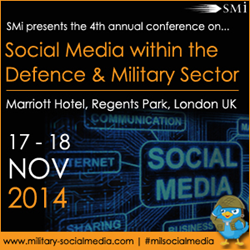 "Top notch, great speakers and I gained so much!" - Head of Communications, SVPA
London, UK (PRWEB UK) 11 September 2014
Social media is the locus of an increasing share of discussion and media activity worldwide. While this offers opportunities in intelligence gathering and sentiment assessment, social media can also be a potential communications threat. How can the defence/intelligence community best prepare to take advantage of the capabilities afforded by social media?
SMi's event on Social Media within the Defence and Military Sector will address this and much more when the 4th annual show returns to London this autumn.
The threats and opportunities in Social Media will be discussed in greater depth during a post conference interactive workshop hosted by PR Agency, Edelman Digital.
Philip Trippenbach, Account Director of Strategic Innovation and Emil Madsen, Digital Planner, will provide detailed insights into the regional and local aspects of social media participation, rules of engagement, crisis management and active operations.
Edelman is the world's largest independent Public Relations Agency, with over 4,800 people in 67 offices worldwide. They provide strategic thinking and deliver high-impact campaigns, across the full spectrum of communications.
The workshop entitled: Strategic Review, Threats and Opportunities in Social Media, will aim to provide attendees with:

An understanding of potential threats and opportunities inherent in social media
Guidance on social media listening and intelligence gathering
Strategic insights into workflow and governance for effective social media participation (rules of engagement)
A look into the global, regional and local dimensions of social media interaction
About The Workshop Leaders:
Philip Trippenbach develops editorial and content strategy, focused on interactive digital innovation and new platforms. Philip applies his strong editorial background as a journalist, game designer, and producer to digital communications projects for clients including Anglo American, Aviva, Qualcomm, Rolls-Royce, Shell and Xbox.
Emil Madsen helps companies achieve success in the digital and social spheres, drawing on experience from working as a strategist in the US, the UK and in Europe. Emil applies a 'using truth to make decisions' approach to his digital planning and concept development work, developing digital strategies for brands such as Xbox, Nestle and Disney.
For further details visit http://www.military-socialmedia.com
Join the conversation #milsocialmedia
Social Media within the Defence and Military Sector
17th & 18th November 2014
Marriott Hotel, Regents Park, London UK
---END---
About SMi Group:
Established since 1993, the SMi Group is a global event-production company that specializes in Business-to-Business Conferences, Workshops, Masterclasses and online Communities. We create and deliver events in the Defence, Security, Energy, Utilities, Finance and Pharmaceutical industries.
We pride ourselves on having access to the worlds most forward thinking opinion leaders and visionaries, allowing us to bring our communities together to Learn, Engage, Share and Network. More information can be found at http://www.smi-online.co.uk