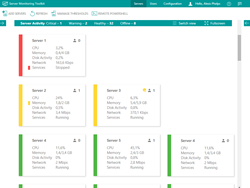 Our mission was to create simple to install, simple to use and simple to understand dashboard for all your Windows servers.
Zagreb, Croatia (PRWEB) September 17, 2014
Acceleratio Ltd., an innovative software development company, has released the new major version 6.0 of Server Monitoring Toolkit, a web application created for Windows Server monitoring and reporting. It brings real-time server monitoring via a live dashboard, new server reports, real-time e-mail alerts, and enhanced features that significantly improve troubleshooting and detection of critical servers.
Server Monitoring Toolkit provides agentless data collection, a user-friendly interface, and many useful reports. It enables administrators to track users' logon activities, monitor actions done on files, get information about blocked IPs and network traffic, track important hardware assets, and much more. Free trial is available and functional for 30 days.
REAL-TIME WINDOWS SERVER MONITORING
The new live servers dashboard shows real-time performance for all servers on one screen—it is possible to check the status of each monitored server, as well as the number of connected users. With Server Monitoring Toolkit, the key performance counters and their thresholds can be configured to define when a server should cross to a warning or critical state. Core system resources, such as CPU usage, Memory, Disk Activity or Network, are also visible on the live dashboard. New server reports provide an overview of services running on a selected server, as well as the domain infrastructure.
EMAIL ALERTS AND MONITORING OPTIONS
The new version brings additional features and new configuration options that help administrators to collect the most important data they need. Real-time email alerts immediately notify the server administrator about possible issues. Furthermore, Server Monitoring Toolkit now supports Microsoft Remote Desktop Services and Citrix XenApp.
"With the latest version of Server Monitoring Toolkit we created the enterprise-class solution without the enterprise-class price" said Frane Borozan, CEO of Acceleratio Ltd. "With this tool it is possible to track all your servers on one dashboard. Our mission was to create simple to install, simple to use and simple to understand dashboard for all your Windows servers."
Server Monitoring Toolkit enables flexible licensing based on the number of servers. License pricing starts from $59 per server (perpetual license), it is possible to choose between three editions.
About Acceleratio Ltd.
Acceleratio Ltd. is a software development company, founded in 2008, based in Zagreb, Croatia, Europe and Ronkonkoma, New York, US, specialized in developing high-quality enterprise applications and providing related consulting services. The company creates innovative software solutions for SharePoint, Office 365, Windows Remote Desktop Services, and Citrix admins and consultants across the globe. Acceleratio's products are used by many organizations worldwide on thousands of servers.
###