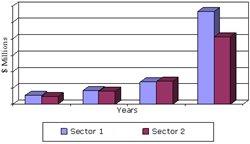 Global Market for Digital Polymerase Chain Reaction Technology to reach $489.8 Million By 2018
Wellesley, Mass. (PRWEB) September 11, 2014
BCC Research (http://www.bccresearch.com) reveals in its new report, DIGITAL POLYMERASE CHAIN REACTION (PCR) TECHNOLOGY: GLOBAL MARKETS, the global market for digital polymerase chain reaction (PCR) technology reached $139.3 million in 2013. This is estimated to grow to $489.8 million in 2018, registering a compound annual growth rate (CAGR) of 28.6% for the period 2013 to 2018.
New digital PCR technology has created a number of interesting and exciting possibilities within the broader PCR field. The opportunities presented by this technology offer some fundamental solutions to issues within PCR, allowing various tasks to be performed more easily and enabling new innovations not previously achievable with existing technology. This has led to the equipment sector's anticipated rapid growth to $283.9 million, with a CAGR of 33%, making it the fastest growing segment.
"Digital PCR is a rapidly growing technology that is experiencing a fast uptake and broad adoption in laboratories engaged in molecular biology. Clinical laboratories have turned research into billable laboratory tests and are poised for explosive growth in the revenue generated in these fields," says BCC Research analyst, Todd Graham. "All firms within this field have reported strong product growth, while reports from the scientific community augur well for continued advancement for the next five years."
DIGITAL POLYMERASE CHAIN REACTION (PCR) TECHNOLOGY: GLOBAL MARKETS gives a detailed analysis on the digital polymerase chain reaction (PCR) industry, including trend forecasts and sales through 2018. The focus of this report is on the equipment used within the digital PCR sector and their distinct reagents. The different technologies used for digital PCR and their associated reagents are analyzed to explore the scope of the marketplace that exists for this technology.
This report identifies the plethora of market opportunities using digital PCR, focusing on where it can establish itself in the broader marketplace, the applications of the technology, and the implications this technology will have on complementary applications.
Editors and reporters who wish to speak with the analyst should contact Steven Cumming at steven.cumming(at)bccresearch(dot)com.
About BCC Research
BCC Research publishes market research reports that make organizations worldwide more profitable with intelligence that drives smart business decisions. These reports cover today's major industrial and technology sectors, including emerging markets. For more than 40 years, we have helped customers identify new market opportunities with accurate and reliable data and insight, including market sizing, forecasting, industry overviews, and identification of significant trends and key competitors. We partner with analysts who are experts in specific areas of industry and technology, providing unbiased measurements and assessments of global markets. Our clients include the top companies in industries around the world as well as universities, business schools, start-ups, consulting firms and investment companies. BCC Research is a unit of Eli Research LLC. Visit our website at http://www.bccresearch.com. Contact us: (+1) 781-489-7301 (U.S. Eastern Time), or email information(at)bccresearch(dot)com.
Data and analysis extracted from this press release must be accompanied by a statement identifying BCC Research LLC, 49-2 Walnut Park, Wellesley, MA 02481, Telephone: (+1) 781-489-7301; Email: editor(at)bccresearch(dot)com as the source and publisher. Thank you.