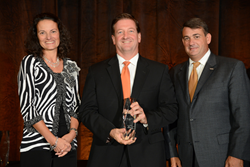 'I am honored to receive the Most Admired CEO Award and humbled to be included among the many outstanding leaders in Maryland,' said Dave Hartman.
Baltimore, MD (PRWEB) September 22, 2014
The Daily Record has named Dave Hartman, President and CEO of Hartman Executive Advisors, as one of Maryland's 2014 Most Admired CEOs.
The Daily Record created the Most Admired CEOs awards program to recognize talented business CEOs and nonprofit executive directors throughout Maryland for their leadership and professionalism. The winners are selected based on their leadership and vision; competitiveness and innovation; community leadership and service; financial performance and growth; corporate leadership and board service; and nonprofit involvement.
Applications must include letters of recommendation from current staff and at least one letter from a nonprofit or board on which the CEO serves. Winners are selected by a panel of business and legal professionals and a representative of The Daily Record.
"Being named a Most Admired CEO takes more than in-depth knowledge about running a company or organization. It requires an extraordinary level of drive and ambition because it is a tremendously challenging job," said Suzanne Fischer-Huettner, publisher of The Daily Record. "They have learned the value of surrounding themselves with great team members, with leaders and employees who believe in the organization's core values and mission. We at The Daily Record are honored to recognize these inspiring individuals."
"I am honored to receive the Most Admired CEO Award and humbled to be included among the many outstanding leaders in Maryland," said Dave Hartman. "I am grateful to lead an incredible team of employees who share my passion and are dedicated to achieving successful outcomes for our clients. In today's world, where technology impacts every area of your business, we're focused on helping CEOs to think strategically about information and technology. As an independent IT leadership and advisory firm, our role is to widen the strategic focus to ensure that technology serves the businesses' goals by leveraging innovation, process, efficiency and customer service to enable growth."
The 2014 Most Admired CEOs will be honored Sept. 18 at a dinner at the BWI Hilton. Winners will be profiled in a special magazine that will be inserted into the Sept. 19 issue of The Daily Record and available online at http://www.TheDailyRecord.com.
About Hartman Executive Advisors
Hartman Executive Advisors is the only 100% independent technology leadership and advisory group focused on helping mid-market corporations and not-for-profit organizations enhance their overall business strategies by improving their IT operations and efficiency.
About The Daily Record
For more than 125 years, The Daily Record Company has provided trusted legal and business information to Maryland readers. In addition to the daily newspaper published five days a week, The Daily Record publishes its website, http://www.TheDailyRecord.com; five blogs, Business Buzz, Eye on Annapolis, Generation J.D., Ground Up and On the Record; four e-newsletters, TDR Insider, Real Estate Weekly, Auction Notices and Best Practices; and a variety of special publications on topics of interest to Maryland business and legal professionals.