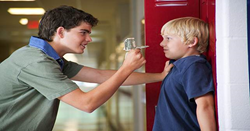 No parent will ever be 100% trusting or assured when it comes to their children's safety.
London, UK (PRWEB) September 12, 2014
Is it getting harder to reach an all encompassing bullying definition with the many variables on ground? NoBullying attempts, in an article released today, to search for the ultimate bullying definition in an ever changing world for children and teens.
Bullying is a serious problem in schools, home and at workplaces. It is the physical, verbal, and emotional abuse that people inflict on others they consider to be weaker or inferior. Millions of children and adults are victims of bullying. There are laws to protect bullying victims, if the victims choose to come forward and press charges. However, many people do not come forward, due to the consequences of trying to be brave and stand up to bullies.
Bullies inflict various types of abuse on their victims. The abuse is so intense, and so cruel and vicious to the extent of pushing most victims to simply put an end to their misery, an example of which is the Ryan Halligan Story, other victims even attempt to put an end to their bully's life. Bullying begets violence, crime and a general sense of hate all over.
The task is daunting for any parent, educator or teenager to try to pinpoint one complete bullying definition, the variables are ever changing but they all have one thing in common, all are hate filled acts of intolerance directed towards helpless human beings.
When trying to find how bullying is defined, the questions that are related can be suffocating at times. From what is bullying to how many kids get bullied a year? And if those are answered, cyber bullying pops up and with it, parents will be haunted by scarier questions such as: what is a predator? What about hazing? Can one block someone on Facebook to escape cyber bullying? How is porn related to violence among teenagers?
The article here notes that understanding bullying definition also includes an understanding of bullying laws, the effects of bullying on the short and long term as well as the consequences for the victim and the family.
An example of how bullying definition is tricky to reach is by simply looking at some noted bullying tactics such as name calling, Subtle physical bullying can often include shoving, pushing, or nudging, teasing, ostracizing, reputation endangerment (rumor spreading), humiliation and physical abuse. The previous tactics are only few of the noted tactics used by bullies against children in school and adults as well.
It is essential for parents, educators and lawmakers to realize that bullying will not stop in a day and even understanding it and getting a clear view of the aspects of bullying and negative peer pressure won't happen in one day. It takes a village armed with education and courage to end bullying.
Ciaran Connolly, Co Founder of NoBullying, notes that these questions need more research on the parents' side. There is no one article or one resource that could make parents at ease when it comes to their children's safety in school and online.
Connolly says "No parent will ever be 100% trusting or assured when it comes to their children's safety. When reaching a bullying definition or better understanding of child safety, it is essential to remember that communication within family is top priority."
He added that parents and teachers should make a point to educate the younger generations about the sad outcome of bullying online and offline. According to Connolly, it is quite imperative to press for more firm laws condemning all acts of bullying and harassment.
NoBullying.com features many pages dedicated to parents, teens, teachers, health professionals as well as posts related to cyber safety and the latest news about law making concerning curbing Bullying worldwide as well as inspirational Bullying Poems and famous Bullying Quotes.
The website regularly updates its bullying statistics and cyber bullying statistics as it is essential to understand how widespread the bullying epidemic is. It also regularly runs cyber bullying surveys and questionnaires to get recent updated statistics on everything related to cyberbullying.
He also added that anyone suffering from bullying in any form or way can always find advice and help on the NoBullying website – but if anyone is suffering from severe bullying or cyber bullying, the best thing is to talk to someone locally – a parent, teacher or local organization that has been set up to help with specialized councilors to deal with this topic.