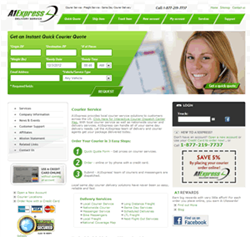 Atlanta, GA (PRWEB) September 12, 2014
A-1 Express, a recognized leader in same-day delivery, messenger and transportation services, announces special same-day delivery online quotes. The announcement is made in efforts to inform customers of its' variety of courier logistics solutions, market its' freight delivery services and increase courier sales growth online. A-1 Express strives to be the best choice in same-day courier solutions nationwide.
A-1 Express has its' special same-day delivery online quote form is accessible via its' comprehensive website. A "Special Quote" link is located at the bottom of the home page, which gives customers access to a special quote form. Special quotes for same-day delivery consist of a variety of service requests that are beyond the daily operational courier services, especially within normal business hours. Special same-day delivery quotes can vary, including long distance deliveries, overnight freight deliveries, trucking shipments, and weekend services.
Customers are recommended to complete the form in its' entirety. The special quote form requests contact information, size of freight, volume, weight, pick up date, and delivery description of the same-day delivery service desired. Once the online quote is complete, the Boston courier will perform analysis and contact the customer within two hours of the special quote.
The courier service offers the benefit of being a one-stop courier and transportation provider. A-1 Express can provide same-day deliveries such as multiple-stop services, scheduled services, office mail routes, large equipment deliveries, and more. A-1 Express is also available 24/7 to assist their customers with on-demand same-day delivery and other service solutions.
A-1 Express is a premier same-day courier offering transportation and distribution services. From small packages to palletized freight, A-1 Express delivers fast! As a leader in the courier industry, their goal is to perform optimal courier logistic solutions and superior customer service every time. The courier provides same-day delivery successfully for over 1,500 clients, including Fortune 500 companies throughout the US.