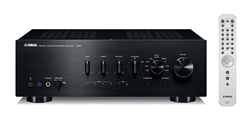 "These new amps provide the best audio experiences to Hi-Fi consumers without breaking the bank," said Bob Goedken, general manager, AV Division, Yamaha Corporation of America.
Buena Park, CA (PRWEB) September 11, 2014
Yamaha today introduced four integrated amplifiers that will acquaint newcomers to the legendary "Natural Sound" of its Hi-Fi components as well as thrill enthusiasts who want modern connectivity, such as digital audio connections for a HDTV or Blu-ray Disc™ player all the way up to a USB DAC function that supports high resolution audio.
These new models, comprised of the A-S801, A-S701, A-S501 and A-S301, reflect the company's experience and expertise in all aspects of music— from musical instruments to live production gear—and deliver premium, high quality audio reproduction of studio and live performances as the artists intended them to be heard.
"The clear resurgence of Hi-Fi is evidenced by our consumer research, as well as the rise of lossless music formats and the fast expanding catalogs of high resolution audio content being made available," said Bob Goedken, general manager, AV Division, Yamaha Corporation of America. "These new amps provide the best audio experiences to Hi-Fi consumers without breaking the bank."
Each model in the line is crafted with Yamaha's proprietary ToP-ART (Total Purity Audio Reproduction Technology) concept that places the right and left channels in a symmetrical design for the highest sound quality. All four models have an anti-resonance base, while the top three also have a solid center bar that deters vibration and extraneous noise and distortion.
The top two models in the line also offer CD Direct Amplification that maximizes the signal-to-noise ratio of CD sources for superior listening experiences. Pure Direct mode virtually eliminates signal degradation by enabling the audio signal to travel the shortest possible route—bypassing the buffer amp and the tone, loudness and balance controls—to deliver the purest sound reproduction. Continuously Variable Loudness Control maintains the full tonal range of music, which is especially beneficial at low volume levels.
Each model has digital audio inputs for HDTVs and Blu-ray Disc™ players that provide dynamic sound to all programming, including sports, movies and concerts. They are also compatible with Yamaha's optional YBA-11 Bluetooth® wireless adapter that enables users to easily stream music from compatible mobile devices and computers.
The A-S801 enables the playback of high-resolution music files via its built-in USB DAC function. In addition, it has a high performance ESS Technology SABRE32 Premier Stereo DAC and double-bottom chassis for the reduction of distortion-causing vibration.
The A-S801 and A-S701 features gold plated terminals for speakers and for all input sources while the A-S501 features gold plated speaker, CD and phono terminals.
For more information, please visit http://4wrd.it/YAMAHA_HI-FI_AMPS.
Pricing and Availability
The new Yamaha integrated amplifiers will be available on the dates and at the MSRPs listed below:

A-S801 (November, $999.95)
A-S701 (October, $899.95)
A-S501 (October, $599.95)
A-S301 (October, $399.95)
About Yamaha
Yamaha Corporation of America (YCA) is one of the largest subsidiaries of Yamaha Corporation, Japan and offers a full line of award-winning musical instruments, sound reinforcement and home entertainment products to the U.S. market. Products include: Yamaha acoustic, digital and hybrid pianos, portable keyboards, guitars, acoustic and electronic drums, band and orchestral instruments, marching percussion products, synthesizers, professional digital and analog audio equipment, Steinberg recording products and Nexo commercial audio products, as well as AV receivers, amplifiers, Blu-ray/CD players, iPod docking systems, earphones, headphones, home-theater-in-a-box systems, sound bars and its exclusive line of Digital Sound Projectors. YCA markets innovative, finely crafted technology and entertainment products and musical instruments targeted to the hobbyist, education, worship, professional music, installation and consumer markets.