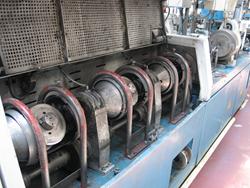 BARCELONA, SPAIN (PRWEB) September 11, 2014
FOR IMMEDIATE RELEASE
The complete Automotive Cable Manufacturing Plant of J. HORTS AUTOMOTIVE is up for Online Auction with bidding commencing Thursday, September 18 and continuing until Tuesday, September 23, 2014, 3 pm CEST.
J. HORTS AUTOMOTIVE was a Barcelona, Spain company that manufactured zinc plates and stainless steel micro cables, transmissions, remote controls, cable sheaths and other accessories for the Automotive industry. As well, interior cables could be used for seating, door and solar applications. Founded in 1953 under sole proprietorship, J. HORTS AUTOMOTIVE grew to be a global company with production plants in Asia and Europe, serving clients from North and South America, across Europe and into Russia.
Now, the former assets of J. HORTS AUTOMOTIVE – the entire Stainless Steel and Zinc Cable Manufacturing Facility – are up for auction. This is an Online Sale only. This wire and cable equipment sale will feature over two hundred (200) lots including Barmag DV2 Stranding Machines; Sket Stranding and Drawing Machines; Rolling Wire Machines; Diecasting, Extrusion and Length Machines; Lab, Test and Workshop Equipment; Support Equipment; and more.
PERFECTION INDUSTRIAL SALES (http://www.perfectionmachinery.com) in conjunction with HERITAGE GLOBAL PARTNERS and COMMISSION BROKERS, have been appointed to conduct the Online Auction due to their on-going and earned experience in asset management and liquidation.
This Online Auction will close September 23, 2014 in Llobregat, Barcelona, Spain. The sale will be conducted in Euros. For further information, please contact John Bopp at +1.708.606.3240 or john(at)perfectionindustrial(dot)com, or Miguel Garcia at +34 622 230 290 or mgarcia(at)hgpauction(dot)com.