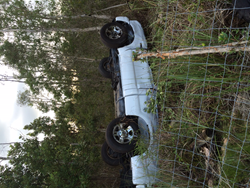 OFF-DUTY EMT FIRST TO RESPOND AT SCENE OF ROLLOVER CRASH
Miami, FL (PRWEB) September 11, 2014
Local volunteer EMT was first to arrive on the scene of a rollover car accident that occurred Wednesday night in northwest Miami Dade, leaving two people injured.
The accident, involving a vehicle with an ATV in the back of the bed, took place on I-75 southbound at Miami Gardens Drive.
Arie Harel, a certified EMT for Hatzalah of Miami-Dade, was in the right place at the right time, and was first to arrive on the scene. Harel, also the owner of Lice Troopers, a Miami-based lice removal service was on his way to a house call when he encountered the accident. Says Harel, "I saw people running out of their cars down the slope on the right hand side of the shoulder of the road. I knew an accident must have just happened."
With his EMT equipment in the back of his car, Harel was prepared to respond. "I noticed one patient on the floor. I immediately applied a neck brace and instructed other bystanders to see if there was other people in the truck," he said.
Florida Highway Patrols and Miami Dade Fire Rescue responded at the site of the accident and both of the injured passengers were taken to Ryder Trauma Center. Read more online on Miami Herald.
Contact: Jennie Harel
Lice Troopers
1005 Kane Concourse, Suite 212
Bay Harbor Islands, FL 33154
Email: licetroopers(at)gmail(dot)com
Phone: 800-403-5423