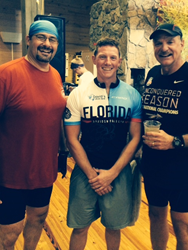 Altamonte Springs, FL (PRWEB) September 11, 2014
BioPlus Specialty Pharmacy (BioPlus), one of the nation's leading specialty pharmacies, participated September 6, 2014 in Camp Boggy Creek's 4th Annual Challenge Ride fundraiser in Eustis, FL. This yearly bicycle ride benefits children facing serious illnesses and their families so they can take part in a free, safe, and medically-sound camp environment at Camp Boggy Creek.
This year, international triathlete Michael Poole served as the Grand Marshal for the Challenge Ride. Fundraiser participants chose from either 60 or 40 mile routes through Lake County or a 15 mile off-road course. All of the rides started and finished at Camp Boggy Creek, which is located outside Orlando. Several cyclists from BioPlus Specialty Pharmacy joined the Challenge Ride, including Nick Maroulis, Pharm.D., Director of Pharmacy, Stephen Vogt, Pharm.D., CEO and president, and Michael Karleskint, Sales Associate.
BioPlus offers ongoing commitment to a variety of causes which promote better treatments and cures for complex diseases and proudly lent its support to this year's Challenge Ride.
"Here at BioPlus, we have a long history and deep connection to helping children and their families facing a variety of serious diseases, which is why we loved the opportunity to join in this bike ride to help make this year's Camp Boggy Creek fundraiser a success," shares Dr. Maroulis. "I am so proud of my fellow BioPlus team; we rode a total of 160 miles in support of this wonderful camp."
Camp Boggy Creek, founded in 1996 by Paul Newman and General H. Norman Schwarzkopf, is a camp where children with serious illnesses and their families can enjoy a camp experience in a safe, medically-sound environment.
The 232-acre camp serves children ages 7-16 who've been diagnosed with chronic or life-threatening conditions. Campers attend for free, enjoying fishing, horseback riding, a ropes course, and many other camp experiences with fellow campers facing similar health challenges. For more information about Camp Boggy Creek go to http://www.boggycreek.org.
About BioPlus Specialty Pharmacy
BioPlus Specialty Pharmacy is the first specialty pharmacy to introduce a two hour turnaround from referral to patient acceptance. BioPlus... Where healing begins in 2 hours. Our company celebrates 25 years of excellence in specialty pharmacy, working closely with payers and the pharmaceutical industry, as well as with prescribers to get prompt treatment for patients, and directly supporting our patients nationwide to achieve optimal health outcomes. Our proprietary web tool Tap App, connects prescribers to the pharmacy by bringing the pharmacy chart into the doctor's office with real-time specialty pharmacy information and treatment monitoring.
BioPlus provides a complete range of infusion and specialty services, including for hepatitis C, cancer, bleeding disorders, and other complex, chronic conditions. BioPlus, a privately-held, pharmacist-owned company based in Altamonte Springs, Florida, is accredited by URAC, VIPPS, and the Accreditation Commission for Health Care (ACHC). More information about BioPlus is available at http://www.bioplusrx.com or toll free 1-866-514-8082.
For information: http://www.bioplusrx.com or
Contact: info(at)bioplusrx(dot)com
Phone: 1-888-292-0744
###