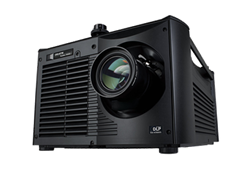 This is the largest digital floor projection canvas ever used for the nation's annual birthday extravaganza.
Singapore (PRWEB) September 22, 2014
Christie® technology provided spectacular visuals which impressed the crowds that turned up at the Marina Bay Floating Platform to celebrate Singapore's 49th birthday in a splash of splendid colors on August 9, 2014.
The stunning spectacle was made possible by Christie's rental staging partner Hexogon Solution Pte Ltd, which deployed a total of 40 Christie projectors comprising six Roadster HD18K and 34 Roadster HD20K-J 3-chip DLP® projectors displaying a slew of multimedia content, including 3D effects, onto an enormous canvas measuring 80 meters by 40 meters for the highly-anticipated Show segment that featured 5,000 performers. This is the largest number of Christie projectors deployed at Singapore's National Day Parade (NDP) to date, and the largest digital floor projection canvas ever used for the nation's annual birthday extravaganza.
This year's NDP Show segment celebrated the can-do spirit and caring attitude of Singaporeans through vibrant multimedia and lively mass displays in four acts - Celebrate it!, Love It!, Live It!, and Be It! - that are creatively juxtaposed with stories of five everyday Singaporeans told in a short film. With a floor projection area approximately the size of a football field, the effects of the digital projections integrated into the performance provided a visual feast for everyone watching the grand event live or on television. Supporting the digital projections were 22 towers that were arranged to depict the skyline of Singapore.
"We're very happy that our partner Hexogon Solution is chosen as the projection provider of Singapore's NDP for the third consecutive year by offering our cutting edge visual solutions to enhance the festivities of the country's 49th birthday celebrations," said Lin Yu, vice president, Christie Asia Pacific. "We are also excited that Hexogon Solution has deployed a record 40 Christie Roadster Series projectors on this occasion to deliver a fantastic performance for everyone attending this large-scale event."
Adrian Goh, managing director, Hexogon Solution, added, "The requirements of the organizing committee made it necessary for us to set up 40 Christie Roadster projectors for this year's NDP. I'm pleased to note that we delivered a very comprehensive solution from system design and installation, through our ability to supply fast and qualitative content and integration, to solve any technical issues under one roof. The results are the brightest projection and most impressive results to date, making this parade a very enjoyable and memorable one for all Singaporeans."
The projectors were installed 28 meters above the ground which overlooked the Floating Platform so that the entire area could be mapped. To protect the projectors from inclement weather, the team from Hexogon Solution derived two different types of outdoor enclosures for both upper and lower tiers of the Floating Platform where the projectors were placed. As a long-time user of Christie's visual solutions and with the experience gained from its previous years' involvement in the National Day celebrations, the Hexogon Solution team managed to overcome challenges in the areas of image adjustment and alignment to deliver a remarkable projection mapping show that drew thunderous cheers and applause from the audience.
Christie Roadster Series projectors provide unbelievably bright images with stunning detail and depth of color, releasing pure power with purpose-built features. Designed with built-in handles, an improved airflow system and multiple rigging points, these powerhouse projectors stack up against the rigors and stress of rental/staging. Featuring high-quality optics, 10-bit image processing and a variable contrast ratio of 1600-2000:1 for brilliantly crisp, detailed images, these compact projectors deliver crisp, clean images with perfect color saturation and spectacular video.
About Christie
Christie Digital Systems USA, Inc. is a global visual technologies company and is a wholly-owned subsidiary of Ushio, Inc., Japan. Consistently setting the standards by being the first to market some of the world's most advanced projectors and complete system displays, Christie is recognized as one of the most innovative visual technology companies in the world. From retail displays to Hollywood, mission critical command centers to classrooms and training simulators, Christie display solutions and projectors capture the attention of audiences around the world with dynamic and stunning images. Visit http://www.christiedigital.com.
Follow Christie at:
Twitter.com/christiedigital
Facebook.com/christiedigital
Christie® is a registered trademark of Christie Digital Systems USA, Inc., registered in the United States of America and certain other countries.
DLP® is a registered trademark of Texas Instruments