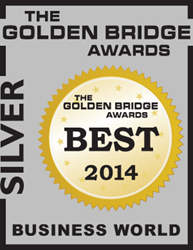 We are very excited to add these two new honors to our trophy case and look forward to competing in this prestigious awards program again next year...
Farmingdale, NY (PRWEB) September 11, 2014
Nutricap Labs announced today it earned Silver Awards in the Chief Executive Officer of the Year and Best Overall Company of the Year categories of the 2014 Golden Bridge Awards competition. Winners in all categories were announced at gala dinner and presentation ceremony in San Francisco on Monday, September 8, 2014.
The coveted annual Golden Bridge Awards program encompasses the world's best in organizational performance, innovations, products and services, executives and management teams, women in business and the professions, innovations, case studies, product management, public relations and marketing campaigns, and customer satisfaction programs from every major industry in the world. Organizations from all over the world are eligible to submit nominations including public and private, for-profit and non-profit, largest to smallest and new start-ups.
Nutricap Labs has been providing owners of dietary supplement companies with best-in-class capsule, powder, tablet, and softgel manufacturing services for nearly a decade. The firm also provides one-stop label and packaging design, order fulfillment, and warehousing services. This complete turnkey contract manufacturing solution results in industry-leading turnaround times, allowing their clients to go to market faster with their products than the competition.
More than 40 judges from a broad spectrum of industry voices from around the world participated and their average scores determined the 2014 Golden Bridge Business Awards winners. The winners were honored during the awards dinner and presentation on September 30, 2014 in San Francisco attended by the finalists, industry leaders, and judges.
"Over the past three years, our company has been recognized by the Golden Bridge Awards in categories such as Manufacturing Team of the Year and Management Team of the year," said Jonathan Greenhut, Chief Executive Officer of Nutricap Labs. Mr. Greenhut added, "We are very excited to add these two new honors to our trophy case and look forward to competing in this prestigious awards program again next year. On behalf of our company I would like to congratulate all of the businesses that received Golden Bridge Awards."
###
About the Golden Bridge Awards:
Golden Bridge Awards are an annual industry and peers recognition program honoring best companies in every major industry from large to small and new start-ups in North America, Europe, Middle-East, Africa, Asia-Pacific, and Latin-America, Best New Products and Services, Best Innovations, Management and Teams, Women in Business and the Professions, Case Studies, Customer Satisfaction, and PR and Marketing Campaigns from all over the world. Learn more about The Golden Bridge Awards at http://www.goldenbridgeawards.com.
About Nutricap Labs:
Nutricap Labs is a best-in-class provider of turnkey supplement manufacturing, graphic design, packaging and order fulfillment services. We are a six-time Inc. 5000 honoree and have received multiple accolades over the years from leading business and entrepreneurial advocates such as The American Business (Stevie) Awards, Best in Biz, and The Golden Bridge Awards. For more information about our services, please visit our brand new website or call (800) 494-6154 to speak with one of our knowledgeable Production Specialists. Nutricap Labs is a privately-held company with facilities located in Farmingdale, New York.