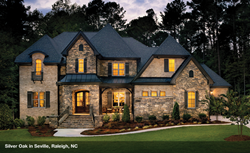 When families are able to live together happily, they're in a better position to help each other and learn from each other.
Tampa, FL (PRWEB) September 11, 2014
A new article focuses on the growth of multi-generational families living together and how families are adjusting how they look at housing.
Pew Research Center reported that in 2012, 57 million Americans live in households with at least two adult generations. This number is double from what it was in 1980.
The housing market itself is responding, with home builders offering custom plans, double master suite home plans and other home modifications to suit the needs of these extended families.
The article additionally illustrates the differences in needs for multi-generational housing and compares renovating an existing home with new construction.
Extended families range from adult children moving back home after a life event to two families of the same generation deciding living together because it makes sense to them for financial or safety reasons. With assisted living costs on the rise, it often makes sense to move aging parents into the home and set up supportive care. Adult children may move in after a divorce or may move in for a shorter time as they look for employment after graduating from school. There are a growing number of reasons families choose to live with each other, and home builders and renovation companies must be not only up to the task, but understand the nuances of needs of different family situations.
Read the full article on housing for extended families here.