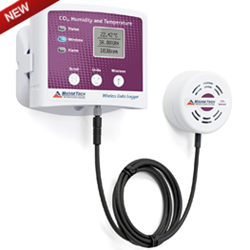 (PRWEB) September 11, 2014
If attendees begin to nod off during long meetings, the answer is likely much more complex than a boring speaker. When breathing in enclosed spaces, the amount of available oxygen is continually decreasing while the level of carbon dioxide increases, resulting in drowsiness. Proper ventilation and HVAC systems are the best prevention against sick buildings or the over saturation of CO2 in offices, classrooms, and similar environments. Elevated CO2 levels can also impact environments within laboratories, hospitals, incubators and other locations where maintaining precise CO2 levels is critical.
Installing equipment and devices to properly monitor safe levels of CO2 in a specific environment have historically been time consuming and expensive. The MadgeTech RFCO2RHTemp2000A provides an affordable, wireless, reliable option with many additional notification features and configurable settings to help users police these issues and have a continuous record of any variance.
As part of MadgeTech's wireless data logger series, the RFCO2RHTemp2000A boasts the ability to display instant access to current readings, as well as minimum, maximum, and average statistics on the large built in LCD screen. The device also features configurable alarms, battery life indicator, and the ability to reset statistics directly from the device without impacting the data collection.
The RFCO2RHTemp2000A comes with a 72 inch cable that connects the data logger body to the compact CO2, temperature, and humidity sensor. This allows the sensor to be placed in controlled areas, such as incubators, while the logger remains external allowing for real time evaluation at the device. This data logger features a convenient wall mount, while the sensor is equipped with dual lock for easy and secure placement and effortless mobility.
No matter the location, MadgeTech's RFCO2RHTemp2000A provides the perfect solution for an array of applications to support air quality. By determining the levels of carbon dioxide, improvements can be made to ventilation systems for good health and energy saving opportunities.
The RFCO2RHTemp2000A can be used as a single wireless data logging system, or can be included as part of a large scale system including hundreds of data loggers. The RFCO2RHTemp2000A also comes with the latest version of the MadgeTech 4 Data Logger Software.
MadgeTech 4 is an all-in-one package for storing files, creating formal reports, and performing in-depth analysis. Customizable graphical, tabular and statistic reports can be created to present to clients, auditors, or kept for a physical archive. The software features the ability to export to Excel®, data annotation, digital calibration and more. The RFCO2RHTemp2000A Wireless CO2 Data Logger is priced at $699.00 USD, discounts available for quantities. For more information please visit http://www.madgetech.com or call (603) 456-2011 to speak to MadgeTech's knowledgeable sales staff today. To see a product video of the RFCO2RHTemp2000A, click here