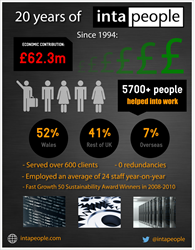 "We are proud to celebrate 20 successful years in an extremely competitive market, but there is still a huge amount left to achieve." Phil Handley, Operations Director.
Cardiff, Cardiff (PRWEB UK) 16 September 2014
Specialist recruitment consultancy IntaPeople is marking 20 years in business by disclosing its contribution to the economies of its native Wales, the UK and EU.
Since being established in September 1994, IntaPeople has secured employment for over 5700 IT and Engineering professionals and served over 600 clients from its Cardiff headquarters.
Over half of those 5700 people have been helped into work in Wales, with 41 per cent placed elsewhere in the UK, and 7 per cent overseas. The figure of £62.3 million was calculated by adding together turnover figures since 1994.
Philip Handley, Operations Director at IntaPeople, commented: "These figures reflect how much IntaPeople has contributed to the Welsh, UK and EU economies, and how much we've grown as a business in 20 years.
In 2010 IntaPeople was awarded a Fast Growth 50 'Sustainability Award' for being one of a small number of companies to ever achieve a Wales Fast Growth 50 listing over three consecutive years. The company has weathered multiple recessions, Millennium Bug hysteria and the dotcom boom and bust period.
Recent successes have included winning the business of US cloud security provider Alert Logic and delivering the first tranche of staff for its new European Headquarters in Cardiff; as well as launching a new office in central London.
IntaPeople has over 30 staff in its central Cardiff headquarters, and has employed an average of 24 staff 'year on year' since 1994, without ever making a single redundancy.
Handley added: "We are proud to celebrate 20 successful years in an extremely competitive market, but there is still a huge amount left to achieve.
"Our mission is to become the preferred IT and engineering recruitment consultancy of choice throughout the UK. This will be based on a people-centric approach and a consistently high quality of experience for clients and candidates."
Ends
About IntaPeople
IntaPeople is a specialist IT and Engineering recruitment consultancy with headquarters in Cardiff and an office in London. The company sources candidates for a wide range of permanent, contract and temporary positions across the UK, Europe and the Middle East.
IntaPeople has worked alongside some of the world's leading companies, and longstanding clients include Hewlett Packard, the BBC, the Welsh Ambulance Service and NLIAH (NHS Wales). A multiple award-winning business, IntaPeople also holds ISO 9001, ISO 14001 and REC accreditation.