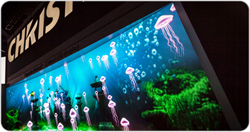 The quality, color depth, and clarity of the picture created by Christie's new 4K projector are mind-blowing, stated one judge.
Cypress, Calif. (PRWEB) September 19, 2014
Christie®, the global leader in visual displays and audio technologies, was awarded three Best of InfoComm 2014 honors by rAVe Publications while 70,000 of the publication's readers voted a Christie 4K product as Favorite Projector. Recognizing Christie for its innovative visual and collaboration technology solutions, rAVe Publications awarded Christie Velvet with Best New LED Wall, the Christie Brio Team+ BYOD collaboration system with Best New Wireless Accessory and Christie's Real-Time Projection Mapping Car App with Best Concept Product at InfoComm 2014.
High Brightness and 'Velvet' Smooth - Best New LED Wall
Christie expanded its line of tiled displays with the introduction of Christie Velvet at InfoComm 2014. The high-brightness indoor LED tiles are easy to install, seamless to integrate, and have wide-viewing angles, darker blacks, and low total cost of ownership. Configured according to customer needs, the tiles are built-to-order in 1.875 mm, 2.5 mm, 3 mm and 4 mm pixel pitches. Built for 24/7/365 use, the smart design tiles with their exceptional image clarity are suitable for indoor video wall applications, such as retail, hospitality, corporate lobbies as well as control rooms. Backed by industry-leading warranty and trusted pre/post-sales service, Christie's family of display solutions include a full selection of professional LCD displays, some with tiled and touch options, Christie Entero rear projection cubes, the award-winning Christie® MicroTiles® and now the new Christie Velvet LED display. As a single source provider, Christie's display solutions can be bundled with many options.
Brio Supports BYOD - Best New Wireless Accessory
The Christie Brio presentation and collaboration system is a family of three product solutions that share similar interfaces and control protocols to provide an integrated user experience through one unit. Supporting the 'Bring Your Own Device" or BYOD environment, the Christie Brio Team, the newest addition to the group, is a 'plug and play' unit that makes it easy for individuals to wirelessly stream content onto displays from devices such as PCs, tablets, smartphones. Brio Team+ gives users all the features of Christie Brio Team as well as adding HD video sources to local meeting content, providing the advantage of displaying original video content at native resolutions through DVI-D wired video inputs. And the Brio Enterprise allows collaborators to not only share and annotate content in the same room but also enables secure collaboration and sharing of high-quality content between multiple locations as if there were in the same space.
Christie Design Studio: Real-time projection mapping - Best Concept Product
The Christie Design Studio, showcasing a one-fifth Hyphen-created scale model of a Corvette C7 Stingray at InfoComm 2014, demonstrated how imagination can become reality. Tools like projection mapping can be a catalyst to visual communications and the sharing of experiences. The C7 displayed at InfoComm was developed in collaboration with 3DXCITE and Ventuz, and built on top of RTT DeltaGen software - the same tool many automakers use for digital review of new car designs. To bring the car to life, the model rested within a diorama constructed of Christie MicroTiles, multiple combined Christie G Series 1-chip DLP® projectors with Christie Twist™ LT for warping and blending. Through projection mapped photorealistic graphics, and by interacting with a touch panel, users could explore design options instantly and customize their vehicle.
Easily deployed in any environment, the Christie Design Studio concept can be used in many settings beyond the auto industry, including retail where clothing can be mapped onto mannequins or where an infinite number of style choices can be mapped onto a shoe. An architectural firm could bring a proposed building model to a meeting and use projection mapping to show the customer how shadows and light will appear at different times of the day or year. A museum could have a large stock of 3D-printed copies of artifacts that could be brought to life by placing them into the projection field. Christie continues to make projection mapping more accessible and easy to use for customers and markets. The company's new projection mapping resource, with scores of projects done around the world is available as a free downloadable app for iOS devices, Android devices, and as a PDF file.
Christie D4K35 - Readers' Choice for Favorite Projector
At InfoComm, rAVe Publications surprised Christie senior product manager Mike Garrido on camera with rAVe's Readers' Choice award for Favorite Projector for the Christie D4K35, voted on by 70,000 readers. Live Design Magazine also awarded the Christie D4K35 Projector of the Year, with one judge stating, "The quality, color depth, and clarity of the picture created by Christie's new 4K projector are mind-blowing" and another judge saying "Featuring unbelievable brightness, coupled with stunning resolution, the D4K35 brings vibrancy and detail to the largest events."
Christie would like to congratulate two of its partners for their rAVE Publications awards. Premier Mounts won Best AV Cart for the PSD-MTC Mobile Cart and rp Visuals for Best AV Mount for its EZ-Louver Mount.
About Christie
Christie Digital Systems USA, Inc. is a global visual technologies company and is a wholly-owned subsidiary of Ushio, Inc., Japan. Consistently setting the standards by being the first to market some of the world's most advanced projectors and complete system displays, Christie is recognized as one of the most innovative visual technology companies in the world. From retail displays to Hollywood, mission critical command centers to classrooms and training simulators, Christie display solutions and projectors capture the attention of audiences around the world with dynamic and stunning images. Visit http://www.christiedigital.com.
Follow Christie at:
Twitter.com/christiedigital
Facebook.com/christiedigital
Christie® is a registered trademark of Christie Digital Systems USA, Inc., registered in the United States of America and certain other countries.
Christie® MicroTiles® is a regstered trademark of Christie Digital Systems USA, Inc.
DLP® is a registered trademark of Texas Instruments