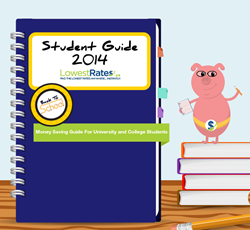 Toronto, Canada (PRWEB) September 11, 2014
LowestRates.ca today announced the launch of its 2014 Back-To-School Money Saving Guide for University and College Students. The 2014 guide builds on the success of last year's edition, which was widely shared and read on campuses from coast to coast.
"Our 2014 back-to-school guide has more ways than ever for students to save money and be just plain smart about their finances. This is a guide where Canadian students will find some really creative ways to conserve cash," said Justin Thouin, CEO of Lowest Rates Inc.
The popular compendium features a variety of money saving tips aimed at helping students get through the school year with less debt and more cash in their pockets.
This year, the guide features three sections:
Managing Your Money: Uncover the best student money management hacks for 2014, the smartest financial products, and some tried-and-true money saving tips that every money-conscious student needs to know.
Housing: Learn how to cut housing costs and find out what other students are paying at dorms across the country.
Transportation: Learn how to get to school on the cheap, and also see how transportation expenses can vary between schools.
From tracking expenses to saving on groceries, the 2014 Back-to-School Money Saving Guide for University and College Students offers tips that can save students hundreds, or even thousands of dollars during the school year.
The guide is part of LowestRates.ca's expanding suite of educational content to help Canadians of all ages and life stages master their personal finances.
To view/download the guide, click here.
ABOUT LOWEST RATES INC.
Based in Toronto, Canada, and founded in 2012, Lowest Rates Inc., through its websites LowestRates.ca and LowestRates.com, provides a free independent online service that helps consumers compare personal financial products offered by North America's leading financial institutions. Lowest Rates Inc. helps people save time and money by allowing them to compare offers on mortgages, insurance and credit cards all in one place. Lowest Rates Inc. strives to become North America's leader in providing consumers with the necessary tools and unbiased information they need to quickly and conveniently find the right personal financial products for their unique needs.
For more information visit LowestRates.ca and stay connected by following us on:
Twitter (@lowestrates_ca),
Facebook (http://www.facebook/lowestrates)
Blog (http://www.lowestrates.ca/blog).