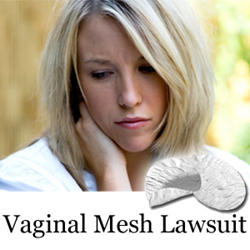 If you have suffered serious side-effect due to vaginal mesh contact Wright & Schuulte for a free legal evaluation, at www.yourlegalhelp.com, or give Wright & Schulte LLC a call at 1-800-399-0795
Columbus, OH (PRWEB) September 11, 2014
A Texas state court jury ordered Boston Scientific Corp. to pay $73 million in a transvaginal lawsuit verdict to a woman who suffered permanent injuries from the company's transvaginal mesh sling, Wright & Schulte LLC reports. After a two-week trial that ended Monday in the 95th Judicial District Court for Dallas County, jurors found that Boston Scientific's Obtryx bladder mesh sling was defectively designed. (Salazar v. Lopez, No. DC-1214349, District Court for Dallas County, 95th Judicial District of Texas (Dallas)) Bloomberg reported that the juror's award to the woman included $23 million in compensatory damages and $50 million in punitive damages due to Boston Scientific's gross negligence in handling its slings. The jury also found Boston Scientific failed to properly warn doctors and their patients about the bladder mesh implant risks.
[bloomberg.com/news/2014-09-09/boston-scientific-ordered-to-pay-73-million-over-implant.html, September 9, 2014]
This vaginal mesh lawsuit verdict comes less than a week after a federal jury in U.S. District Court, Southern District of West Virginia found Ethicon Inc.'s bladder mesh sling was defectively designed and ordered the company to pay $3.27 million to the woman in the vaginal mesh lawsuit (Case No. 12-5201) This was Ethicon's second federal vaginal mesh lawsuit trail in the multidistrict litigation underway in the West Virginia federal court. (In re: Ethicon, Inc., Pelvic Repair System Products Liability Litigation – MDL No. 2327)
The firm is currently representing women across the country in vaginal mesh lawsuit claims who have experienced serious side-effects purportedly from pelvic mesh implants and have undergone revision surgery. If you believe you have experienced serious side-effects from transvaginal mesh or bladder mesh contact the firm at 1-800-399-0795 or visit http://www.yourlegalhelp.com for more information. You can also like us on Facebook and follow us on Twitter for all the updated news on this and other medical devices.
Reuters reported that Boston Scientific denied that the company was liable for the woman's injuries, which includes permanent nerve damage and constant pelvic pain, and said it would appeal the jury's decision. According to the transvaginal mesh lawsuit filed on behalf of the 42 year old woman, the woman had the Obtryx bladder sling implanted four years ago to treat urinary leakage. (Salazar v. Lopez, No. DC-1214349, District Court for Dallas County, 95th Judicial District of Texas (Dallas)) The bladder mesh complaint purports that Boston Scientific's bladder sling design was faulty and alleged that the company marketed a product that it knew was defective. According to Reuters, this latest vaginal mesh lawsuit verdict is the third bladder mesh lawsuit to go to trial against Boston Scientific.
[reuters.com/article/2014/09/09/bostonscientific-mesh-verdict-idUSL1N0RA2BB20140909, September 9, 2014]
According to court records Boston Scientific is facing more than 23,000 bladder mesh lawsuits over its transvaginal mesh devices. Court records also show that of the total number of bladder mesh complaints against Boston Scientific, 12,540 are pending in the U.S. District Court, Southern District of West Virginia. (In Re: Boston Scientific Corp., Pelvic Repair System Products Liability Litigation (MDL No. 2326)) Court records further indicate that Boston Scientific is one of seven transvaginal mesh manufacturers with a combined total of over 61,000 lawsuits pending in the West Virginia federal court. In addition to Boston Scientific, the other companies involved in litigation include:

In re: American Medical Systems, Inc., Pelvic Repair Systems Products Liability Litigation (MDL No. 2325) • In Re: C. R. Bard, Inc., Pelvic Repair System Products Liability Litigation (MDL No. 2187)
In Re: Coloplast Corp. Pelvic Support System Products Liability Litigation (MDL No. 2387)
In Re: Cook Medical, Inc., Pelvic Repair System Products Liability Litigation (MDL No. 2440)
Ethicon, Inc., Pelvic Repair System Products Liability Litigation (MDL No. 2327)
In Re: Neomedic Pelvic Repair System Products Liability Litigation (MDL No. 2511)
[jpml.uscourts.gov/sites/jpml/files/Pending_MDL_Dockets_By_District-August-15-2014.pdf, August 15, 2014]
According to the U.S. Food & Drug Administration (FDA), transvaginal mesh devices support the bladder, bowel and uterus when they become so weak that they drop from their normal position and bulge (prolapse) into the vagina. The FDA issued warnings in 2008 and 2011 about the transvaginal mesh medical devices after receiving complaints from women who had mesh implants and suffered vaginal scarring, bleeding, shrinkage, pain during intercourse, pelvic pain and other complications. In January 2012, the FDA ordered 34 pelvic mesh manufacturers to further study the risks of their medical devices. Due to FDA continuing to receive complaints from women over bladder mesh implants, the FDA in April 2014, proposed reclassifying the medical devices from "moderate risk" to "high risk." Reclassifying these transvaginal mesh medical devices would require manufacturers to go through the same process the FDA requires of new devices that have not yet been approved for sale in the United States. The bladder mesh makers would have to conduct scientific studies, including human clinical trials, and present other information to the FDA to show that their products are effective and safe for their intended use.
[fda.gov/NewsEvents/Newsroom/PressAnnouncements/ucm395192.htm, FDA, April 29, 2014]
[fda.gov/MedicalDevices/ProductsandMedicalProcedures/ImplantsandProsthetics/UroGynSurgicalMesh/ucm262301.htm, April 29, 2014]
About Wright & Schulte LLC
Wright & Schulte LLC, an experienced personal injury firm, is dedicated to the belief that America's legal system should work for the people. Every day, the attorneys of Wright & Schulte LLC stand up for the rights of people who have been injured or wronged and fight tirelessly to ensure that even the world's most powerful corporations take responsibility for their actions. If you're looking for a law firm that will guarantee the aggressive and personal representation you deserve, please do not hesitate to contact Wright & Schulte LLC today. Free transvaginal mesh case evaluations are available through yourlegalhelp.com or by calling 1-800-399-0795.
Contact:
Wright & Schulte LLC
812 East National Road
Vandalia, Ohio 45377
1-800-399-0795
http://www.yourlegalhelp.com
Like us on Facebook
Follow us on Twitter
Join us on Google+