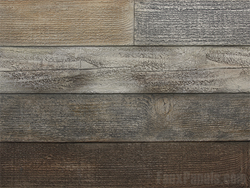 Faux reclaimed wood panels were designed by our own engineer
Deer Park, NY (PRWEB) September 16, 2014
FauxWoodBeams.com does it again by combining natural beauty with the convenience DIYers love to create faux reclaimed wood panels. They have the look and texture of real rescued wood in a panel design.
"Reclaimed wood is a popular but limited resource, and it can be tricky to work with. Our faux Reclaimed Barn Board has the same gorgeous look without the hassles," said Steve Barron, president of FauxWoodBeams.com.
Real reclaimed wood is rescued from old barns and similar structures. Rather than being scrapped when a barn is torn down, the wood planks are carefully removed and inspected. Many will not be useable but those that are viable are attached to a substrate and then used to cover a wall or ceiling. Genuine reclaimed wood has a unique patina due to age and weathering. It has never been pressed or treated so people with chemical sensitivities tend to prefer it.
However, it's almost impossible to color match enough rescued wood boards to have a consistent color for a project, unless it's a very small project. Even then, the odds of getting enough boards from one barn can be low. Wood color tones vary widely according to tree species, the region the tree is from, the weather, water and mineral content it was exposed to as a tree and the weather that affected it as barn boards.
The new faux reclaimed wood panels have the same appearance as real rescued lumber without any of the drawbacks. Made from high density polyurethane and crafted from molds made from real wood, it has realistic texture right down to "nail holes."
Designed by Faux Wood Beams' in-house engineer George Loizidis, the faux reclaimed panels were created with meticulous attention to detail. They even come in two different styles. In the first option, the "planks" have the appearance of vertical overlaps just like real wood wall cladding. In the second style the "planks" butt together – a style that can be used on walls or ceilings.
Even better, the fake panels have the same low maintenance qualities of our other faux wood products. It won't warp, rot or twist even when exposed to scorching sun, freezing cold or harsh weather. Real wood never stops changing, which can cause problems.
Reclaimed wood can also be inconsistent in how it takes stain. It can also have hot spots. With our faux reclaimed wood panels you can get a predictable result, though the "planks" in a panel have color variations so it duplicates natural variations.
"Customers loved the look of real reclaimed wood but didn't like the limitations, so we created the same look in our polyurethane panels so our customers get the best of both worlds," said Barron.
Vintage beauty with modern convenience – Faux Wood Beam's faux reclaimed wood panels are the perfect marriage.
About FauxWoodBeams.com
Faux Wood Beams is an industry leader for providing realistic polyurethane wood beams, ceiling panels and architectural items. Its products have been regularly featured on television shows such as "Bakery Boss," "Brothers on Call," "Celebrity Apprentice," and numerous appearances on "Extreme Makeover: Home Edition." FauxWoodBeams.com is a subsidiary of Barron Designs, Inc., a family-owned home improvement business operating since 1972. For more information, visit FauxWoodBeams.com