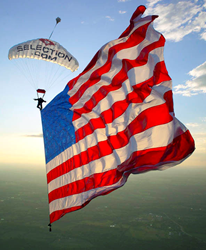 The home opener is always an exciting time, and we're glad to be a part of it.
Springfield, MO (PRWEB) September 12, 2014
The Missouri State Bears home opener against the North Dakota Bison is sure to be an unforgettable night. The Bears will be playing at their newly renovated Robert W. Plaster Stadium. The game starts at 6 p.m., and prior to the game, during the National Anthem, Team Fastrax™ will be performing a patriotic American Flag skydive along with a very special skydiving game ball delivery.
John Hart, owner of Start Skydiving, and Founder of Team Fastrax™, said "We are honored to be performing our American Flag skydive on such an important day for the Missouri State Bears. The home opener is always an exciting time, and we're glad to be a part of it."
According to the Bears' website, there are many other special activities planned as a part of this game. The MSU Pride Band will also present a special pregame animated formation on the field. A special halftime performance by the Missouri State Pride Band will feature a guest showcase with the Boston Brass Band. A free postgame fireworks show will take place. Approximately 10 minutes after the conclusion of the game, students and fans will be allowed on the field to enjoy the fireworks display from the new Sporturf at Plaster Stadium.
Team Fastrax™ is sponsored by Selection.com®, a leading provider of criminal background checks and pre-employment screening services. They are the most ambitious professional skydiving team in the world. The parachute demonstration team has a roster of more than twenty-nine active members, with a culmination of more than 300,000 skydives. Team Fastrax™ has performed exhibition skydives all over the world for audiences large and small as a patriotic display or as a product promotion.
For more information and to purchase tickets, visit the Missouri State Bears website.
For questions or for an interview, contact Gene Newsom with Team Fastrax™ at 513-422-5867.