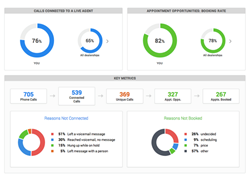 Dallas, TX (PRWEB) September 12, 2014
Service departments, get ready to increase efficiency and profits at your business. DealerSocket is excited to announce its enhanced integration with Century Interactive to include Service Setter.
Service Setter is a comprehensive dashboard that puts all of a service department's call tracking needs into one easy, accessible place. With Service Setter, service departments are able to track and record all of their inbound and outbound calls. All of those calls are then immediately filtered, categorized, evaluated and scored.
Within this dashboard, service managers have access to service performance reports, which display which marketing efforts are delivering the best service leads AND highlight the performance the service staff.
The need for such a platform has become apparent after NADA revealed that service departments are responsible for 60 percent of net profits at dealerships. It's essentially a dealership's gold mine.
Service Setter empowers service departments to step up and value the phone. It does this by delivering the most important service opportunities to the right person at the right time. This way, managers and staff can step in and salvage the opportunity calls that need more attention.
One of the most valuable features of Service Setter is that it provides individual phone skills feedback and coaching to the staff members that need it most. With proper guidance service staff are able to convert the calls they're receiving, ultimately booking more appointments at no additional marketing expense.
Service Setter is a valuable product for service departments, and DealerSocket will now offer it to enhance dealership performance and productivity of service staffs and managers.
ABOUT DEALERSOCKET
Since 2001, DealerSocket has provided the automotive industry with the most comprehensive Customer Relationship Management (CRM) and training solutions available, allowing auto dealers to save time and money, and improve sales staff effectiveness, with one consolidated product. With the power to manage sales, service, CSI, marketing and training, DealerSocket is the complete source for all customer-facing automotive dealership departments.
DealerSocket's core CRM is enhanced by a powerful, customer-facing Mobile Portal application to keep in contact with customers and prospects via all mobile devices, a data-mining tool called RevenueRadar, an online process-training university called CarMind and an efficient CallCenter solution. These products can be used alone or in conjunction with the core CRM solution to provide an end-to-end marketing and revenue-producing engine. More than 140,000 users at over 3,500 auto dealerships throughout the U.S. and Canada now leverage DealerSocket's automotive CRM solution to optimize and manage marketing activities, sales processes, customer satisfaction and retention and service-department operations. For more information, call 866-684-3175, email sales@DealerSocket.com, visit DealerSocket.com, like us at Facebook.com/DealerSocketCRM, or follow us on Twitter at @DealerSocketCRM.
ABOUT CENTURY INTERACTIVE
Century Interactive, based in Dallas, Texas, is a call tracking company that makes dealers and other businesses more intelligent by revealing which marketing efforts are producing the best phone calls, and offering insight into how well the staff is handling those leads. Century Interactive is behind several innovations in the automotive call tracking space, including Service Setter, Car Wars, a competitive call tracking platform for dealership sales departments that actually helps them get better on the phone, and Lead Launch, a feature that directly connects a salesperson to a prospect that has filled out an Internet lead. Century Interactive is also the creator of Humanatic, the first scalable human call filtering system, along with keyword level dynamic website tracking, recorded outbound call tracking, and dynamic call routing, and also set the standard for spam detection with their first to market artificial intelligence junk call detection system.
For more than 25 years, Century Interactive has evolved to meet the demands of its industry. Automotive dealerships, small local businesses, digital agencies, and Fortune 100 companies use Century Interactive to become better marketers every day. For more information, call Century Interactive at 855-262-9876, email sales(at)centuryinteractive(dot)com, or visit centuryinteractive.com.