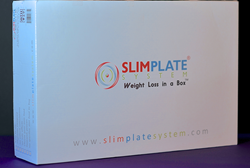 gift-givers can give their relatives a set of functional plates that will trigger weight loss and help to transform their lifestyle
Rock Hill, South Carolina (PRWEB) September 15, 2014
Dinnerware is a popular gift during the festive season, with many people opting to buy their friends and relatives a new serving set, a casserole dish or a selection of China. SlimPlate System is a beautifully-designed collection of plates, cups and bowls that also have a unique purpose – to help the user manage their food portions and lose weight effectively. Instead of choosing huge serving bowls and expensive plate collections, gift-givers can give their relatives a set of functional plates that will trigger weight loss and help to transform their lifestyle – what better gift could be given?
A spokesman for SlimPlate System says, "Our portion control plates are generally bought by individuals hoping to lose weight themselves, but we're seeing a rise in considerate family members and friends buying the sets to give to their loved ones. Seeing someone you care about so unhappy because of their struggle to lose weight is not a pleasant experience, and giving the SlimPlate System of dinnerware as a unique and thoughtful gift can help them overhaul their eating habits and enjoy a healthier, happier life."
The portion control method comes with a four-stage plan – the first two stages are to trigger weight loss and the last two are for maintenance when a goal weight has been reached. The dinnerware is carefully labelled with different food groups for different stages. The plates, as well as the accompanying bowls, cups and boxes, help to manage portions of certain foods, limiting things like starches to trigger that initial weight loss, and encouraging users to choose healthier foods. With added items like the breakfast plate and the cold cup, users can still indulge in pancakes, waffles, soda drinks and other treats, as long as they are complying with the other rules of the SlimPlate System.
The physician-approved system has been proven to trigger weight loss and, most important, keep the weight off once a target weight has been reached. The average amount of weight loss for the first three months using SlimPlate System is a fantastic 14 – 22lbs, which is a significant amount for anyone looking to lose weight – especially if they've been able to indulge in their favourite festive foods along the way!
To find out more about SlimPlate System, visit the website: http://www.slimplatesystem.org/
About SlimPlate System:
SlimPlate System is a four-stage weight loss program that shuns deprivation for portion control. The system, which has been designed by physicians and proven by research, is easy to implement and maintain, with no calorie counting, costly supplements or juice fads.