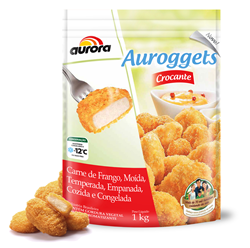 Working closely with C-Vale and Plastrela enabled us to help deliver a reliable flexible packaging solution quickly and easily.
Manteno, IL (PRWEB) September 13, 2014
Not only is the nation ranked among the top three in poultry production worldwide, it is also the highest in per capita consumption at 104.5 lbs. (47.4kg) per year. C-Vale, one of the largest poultry cooperatives in Brazil, supplies much of the chicken that satisfies this ongoing demand. Its Aurora brand of frozen chicken nuggets is sold throughout Brazil and to more than 70 other countries.
C-Vale was quick to recognize shifting consumer preferences toward packaging that was easier to use and extended the shelf life of its contents. In responding to these growing consumer attitudes toward convenience and product freshness for its Aurora Auroggets, C-Vale found the answer in a flexible package solution that included the resources of Zip-Pak Brazil, a leader in zipper closures for packaging. A division of Illinois Tool Works, Inc. (ITW), Zip-Pak is at the global forefront of resealable packaging innovation.
In developing the Aurora packaging solution, Zip-Pak worked closely with Plastrela, a leading converter and supplier of the Inno-Lok® closure system in Brazil. Inno-Lok is a patented product and method for attaching reclosable fasteners transversely to packaging films, thereby producing a roll of pre-zippered film that can be used for products requiring either barrier or non-barrier packaging. In this particular case, the Inno-Lok system was chosen for its ability to meet stringent moisture and oxygen barrier requirements needed to preserve product freshness and flavor.
"This is the first use of Inno-Lok® closure system for a poultry package in Brazil," said Daniel Richena, Commercial Director for Zip-Pak Brazil. "Working closely with C-Vale and Plastrela enabled us to help deliver a reliable flexible packaging solution quickly and easily."
The new reclosable pouch has a front panel zipper that provides convenient access to its contents. Incorporating this pre-applied Inno-Lok feature into the manufacturing process required minimal adjustments to C-Vale's vertical-form-fill-seal (VFFS) machines. Zip-Pak Brazil's Field Service Engineer, Flávio Zampirolli, played an important role providing technical expertise and on-site support to ensure the project's success.
"Our technical knowledge and expertise with the equipment used in the manufacturing process enabled us to anticipate problems, eliminate delays, and make the integration of the Inno-Lok closure a smooth, and easy process," commented Zampirolli. "We're grateful to have been part of this collaboration with Plastrela and C-Vale, as both are highly respected companies in Brazil. As we continue to expand our regional resources, we certainly look forward to many more opportunities like this."
Zip-Pak currently supports and supplies resealable products, technology and equipment to a number of leading multinational consumer packaged goods (CPG) companies that market to Brazil, Brazilian-based CPGs, and numerous other leading Brazilian brands. In furthering its local presence, Zip-Pak opened a new 46,000 sq. ft. (3,502 m2) manufacturing facility in Cabreúva, São Paulo, Brazil last year that produces food-grade zippers for food, pet household consumer and many other products.
"Brazilian consumers are continuing to show preference for packaging that is both convenient and extends product freshness," added Richena. "Zip-Pak's resealable solutions directly support this trend, while enhancing the consumer's experience and elevating brand perception."
# # # #
About Zip-Pak
With over 30 years of packaging experience and expertise, Zip-Pak, a division of Illinois Tool Works, Inc. (ITW), is a global leader in resealable packaging innovations. The company helps consumer product companies build brand preference through convenient, brand-differentiating packaging that preserves product freshness. Zip-Pak produces zipper applicators and technologies to serve original equipment manufacturers, converters, and packagers worldwide. Zip-Pak has headquarters in Manteno, IL and operates seven world-class production facilities strategically located around the globe. For more information about Zip-Pak's packaging innovations and zipper applicators and technologies, please visit: http://www.zippak.com:
For more information about Zip-Pak Brazil, please contact:
Daniel Richena
Commercial Director, Brazil
Zip-Pak Brazil
Rod. Dom Gabriel Paulino B. Couto, Km 78
Cabreúva - São Paulo, Brasil
13.318-000
T: +55 (11) 4529-1312
E: daniel.richena(at)zippak(dot)com
For more press information, please contact:
Ilena Della Ventura
Delia Associates
T: 908-534-9044
E: idellaventura@delianet.com