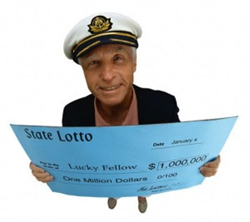 The Fast Cash Secure Loan Program will help by supplementing the cash flow or income of lottery winners who are waiting on their next lottery annuity payment.
Washington, DC (PRWEB) September 11, 2014
Secure Horizon Settlements, known as the gold standard lump sum company in the financial services industry, is proud to announce its new secure loan program specifically for lottery annuitants. The plan is being offered to lottery winners nationwide until this exclusive offer ends its trial run at the end of 2014.
The Fast Cash Secure Loan Program will enable lottery winners to receive a sum of money to help with unexpected needs and expenses. These loans will close fast, typically within one or two business days. There is no interest due on these loans in the expectation that they will be borrowed against future payments that are due.
As a direct result of the successful work that Secure Horizon Settlements has done with lottery annuitants and recipients of structured settlements in the past, they are now able to offer advantageous loans to lottery winners who need access to a large amount of money immediately.
Lottery winners can usually choose between the lump sum cash option and series of yearly payments when they claim their prize, but many states still require that the prize be distributed as an annuity over ten or even twenty years. Winners of cash-for-life style prizes are required to receive their payout through an annuity option. This means that it can be difficult to manage that payment over the course of a year for expenses and investments. The Fast Cash Secure Loan Program will help by supplementing the cash flow or income of lottery winners who are waiting on their next lottery annuity payment.
Secure Horizon Settlements encourages any lottery winner who may be interested in these loans to call in at 1-855-747-3278 to speak to an expert representative to see if they qualify. Secure Horizon Settlements also offers a variety of financial services, especially to lottery winners and structured settlement recipients looking to sell their lottery or long-term payments for a lump sum of cash.
About Secure Horizon Settlements, LLC
Secure Horizon Settlements LLC, based in Rockville, MD, is a nationally-recognized financial services company that purchases structured settlement payments, lottery annuities, and casino jackpot wins. Secure Horizon Settlements was created to meet the unique financial demands of Structured Settlement recipients and Lottery winners wanting to sell their structured settlement and lottery annuity payments fast. Secure Horizon Settlements has experienced tremendous growth under a veteran management team with decades of industry experience.
Secure Horizon Settlements takes genuine strides to meet the personal needs of their customers while ensuring they are treated both fairly and professionally. At the same time, their dedicated legal and management team is committed to delivering high quality service that streamlines the funding process. Secure Horizon Settlements is the gold standard go-to lump sum company you can depend on.
For more information, contact 1-855-747-3278, email at promotions(at)shsfunding(dot)com, or go online to http://securehorizonsettlements.com/.