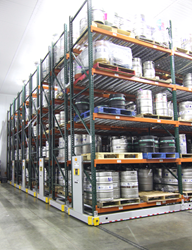 New Orleans, LA (PRWEB) September 11, 2014
Visit Spacesaver Corporation at booth #523, September 28th to October 1st at the 77th annual NBWA convention to learn about innovative storage techniques for manufacturers and distributors who carry various craft beers, wine or cider drinks. All attendees will have the opportunity to learn more information on mobile storage systems and how they can double warehouse storage capacity without the need for expansion.
With craft beer production and sales on the rise, kegged wine and cider is also starting to gain popularity with consumers. To meet the demand for these drinks many manufacturers and distributors are installing cooler systems within their warehouse space. But in order to accommodate the vast selection many companies are facing the need for expansion because storage space is running out. With Spacesaver ActivRAC high-density mobile storage solutions you can double the storage capacity within your existing warehouse. ActivRAC mobile systems can also be modified for use in cooler or freezer storage rooms.
Using your existing space and pallet racks, ActivRAC can not only help increase your storage capacity buy also help increase productivity by helping to organize all your SKUS more efficiently. At a large beer distributor in the Midwest, ActivRAC helped increase cooler space almost 100% from the capacity of conventional shelving.
Learn more about high-density mobile storage systems at the 77th annual NBWA convention at booth #523.
About Spacesaver Industrial
Spacesaver Industrial is a division of Spacesaver Corporation, and industry leader of high-density mobile storage systems; secure storage, locker storage and other storage solutions since 1972. The company has successfully installed more than 250,000 storage systems for leading companies and institutions across North America, including an untold number of industrial applications. Spacesaver Corporation, a division of KI, Green Bay, Wis., employs nearly 500 at its manufacturing facility in Fort Atkinson, Wis. The manufacturing plant, which has earned ISO 9001:2008, encompasses 358,000 square feet. From the manufacturing floor to the front office, the Spacesaver Industrial division has extensive experience in designing and manufacturing solutions exclusively for use in a diverse range of manufacturing operations, as well as companies focused on the warehousing, distribution, and logistics industries. For more information visit http://www.spacesaverindustrial.com