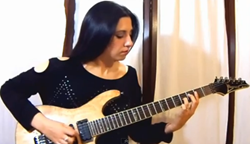 (PRWEB) September 11, 2014
In this lead guitar lesson, now available on YouTube.com, Alejandra Mesliuk teaches how to play the solo from the song Comfortably Numb from David Gilmore's band Pink Floyd. Alejandra starts off by playing the solo at tempo so viewers can hear how it should sound and then she breaks it down so they can easily follow along with her. The solo based in the minor pentatonic scale and is played in numerous positions on the fret board and uses the techniques of hammer-on and pull-off's, slides and bending. The solo is very melodic and is regarded as one of the greatest of all time among many guitarists today. Complete guitar TAB's are available for this cool lead guitar lesson at GuitarControl.com.
Pink Floyd was founded in 1965 in the UK. Best known for there album Dark Side of the Moon which is still a top selling album to this day. Floyd guitarist David Gilmour is regarded as one of the most influential guitarists of this time. Pink Floyd was inducted in the Rock and Roll Hall of Fame in 1996 and have sold over 250 million records world wide.
Alejandra Mesliuk
Alejandra Mesliuk is from Buenos Aires Argentina. She studied jazz guitar harmony and under the method in Temperley Berklee School of Music by Ariel Ferreyrola. She has been an area teacher and clinician for the last 10 years in electric guitar, classical, and musical language. She is currently working on a solo album.
About GuitarControl.com
GuitarControl.com is the leader in modern guitar instruction. It's packed with recourses including articles, video lessons, and the best videos in the business for the beginner to the advanced guitar student taught by the best instructors out there. Weather you are into the blues, rock, jazz, metal, folk, or anything in between, they have you covered.