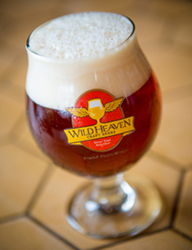 Atlanta, Ga (PRWEB) September 11, 2014
Fadó Irish Pub in Buckhead has set out to up the beer festival ante this Fall with the Beer and Bourbon Review on Saturday, September 27, 2014. Not only will Atlanta beer lovers bask in the hottest selection of local, regional and European craft beers, but indulge in the top Bourbon brands of the South too. 75+ brews to be on hand, from over 15 local craft and International breweries, Fadó, located in the heart of Buckhead, has pulled out all the stops so that the average beer lover to the beer connoisseur will leave not only satisfied, but blown away by the unlimited sampling event. And, like any great American craft beer festival, Fadó Irish Pub is offering exclusive ticketing options for beer lovers of all levels.
"At Fadó, we know how to throw a good party," says Kevin Ellis, general manager at Fadó. "We've been doing it for 18 years. But, the other thing that our customers trust us to deliver on is good beer and spirits. And, the Beer and Bourbon Review will do just that with the best craft brews and bourbons out there right now"
To start, the team assembled a top flight group of local, regional and International craft brewery and bourbon distilleries to sponsor* for the afternoon unlimited sampling event. At 1pm, doors will open early to the VIP ticket-holders to experience a private one-hour VIP Sweetwater Brewery Rooftop Patio Takeover where guests will have the opportunity to try specialty and anniversary brews.
At 2pm, the General Admission Unlimited Sampling Event kicks off and festival go-ers will receive a wristband and a 5 ounce souvenir sampling cup to maximize their 4 hour beer tasting adventure. The breweries are all showcasing their best brands and seasonal features to ensure that guests will enjoy a wide variety of beer styles and flavor profiles. Bourbon lovers will receive limited tickets to sample from the 9 different distilleries on hand at the event. There will be a special food station set up inside the pub offering festival-goers pulled pork BBQ sandwiches, ribs and chicken in addition to the Pub's full regular menu. Live music, provided by local favorites, Kylie kicks off on the outdoor stage at 2pm and will keep the party going until 8pm and well after the beer event has ended with cracking covers and classic pub tunes.
After the sampling event ends at 6pm, the party will continue well into the night with live music outside until 8pm, cocktail stations, more beer and the DJ inside. Advance tickets for the VIP package and the general admission sampling event on sale now. Only 150 tickets are available to the public for the VIP Exclusive Sweetwater Rooftop Takeover.
*Featured Breweries:
Sweetwater Brewery, Abita, Ballast Point, Boulevard, Eventide, Old Cask, New Holland, Sierra Nevada, Terrapin, Wild Heaven, Sam Adams, Blue Point, Lagunitas, Tenth & Blake, Goose Island, Shock Top, Johnny Appleseed, Back Forty
*Featured Distilleries:
Georgia Distilling, Windy Hill Spirits, Woodford Reserve, Four Roses Bourbon, Heaven Hills, Sazerac Distributers
Event Details and Ticket Information
1pm - 2pm: VIP Exclusive Sweetwater Brewery Rooftop Takeover - $75*
*Includes exclusive entry at 1pm and full access to sampling 75+ beers (without the wait). The general admission craft beer sampling event begins at 2pm.
*Enjoy exclusive access from 2-3pm to our VIP Sweetwater Rooftop Patio Takeover Event where you will sample specialty and anniversary brews from Sweetwater Brewery. Participants all receive a Sweetwater t-shirt as well as tickets to sample to select Bourbon brands.
2pm - 5pm: General Admission Beer Sampling Event - $35 in advance, $40 on the door*
*All access to outdoor event from 2-5pm with unlimited sampling of 75+ beers from over 20 craft breweries.
2pm - 8pm: General Admission Live Music on the Outdoor Stage - NO COVER
*Live music provided by local favorites, Kylie.
11pm - close - Street Festival ends and a proper pub party continues inside with the Fado DJ and late night drink specials on offer.
Fado Irish Pub, 273 Buckhead Ave, Atlanta Ga 30305, 404-848-8488
Buckhead Ave is currently closed off from the corner of Buckhead Ave and Peachtree Rd. Free and metered street parking is available throughout the Buckhead neighborhood and patrons should be mindful that meters are running on Saturdays.
About Fadó Irish Pub
Fadó (pronounced fuh-doe) Irish Pub was the first Irish pub to be designed and constructed in Ireland and shipped and installed in Atlanta in 1996. Fadó is distinguished by its genuine Irish hospitality, quality of its pints and craic (pronounced 'crack', a uniquely Irish form of fun). Fadó has been voted 'Best Of' by a number of local and national publications, is the European sports headquarters and an official US Soccer Bar. Get in on the conversation on the pub Facebook page http://www.facebook.com/fadoatlanta or by following Fadó on Twitter http://www.twitter.com/fadoatlanta and following the Fado on Instagram @fadoirishpub with hashtag #craftbeerfest