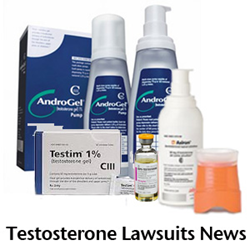 If your believe you have suffered cardiovascular problems due to Androgel, Testim, Androderm or other Testosterone Therapy Drugs Call Wright & Schulte today for a Free Legal Evaluation at 1-800-399-0795 or by visiting www.yourlegalhelp.com
Columbus, OH (PRWEB) September 22, 2014
A Case Management Order (CMO) was issued on August 25, 2014, to set up the discovery phase for testosterone lawsuit claims pending in multidistrict litigation in the U.S. District Court, Northern District of Illinois. Wright & Schulte LLC notes the CMO, parties involved have until mid October to submit initial disclosures about potential witnesses and documents in testosterone therapy lawsuits. The order further instructed attorneys to continue negotiating the topics in Plaintiff Fact Sheets before another status conference is held for the testosterone treatment litigation. The CMO also directed the parties to discuss coordination with state courts over testosterone lawsuit filings. The testosterone lawsuits filed in state and federal courts against manufacturers of testosterone treatment medications such as Androgel, Androderm and Axiron, allege that men have suffered deep vein thrombosis, pulmonary embolism, heart attacks, strokes and death allegedly from taking testosterone treatment medication. (In re: Testosterone Replacement Therapy Product Liability Litigation - MDL No. 2545)
Multidistrict litigation for the testosterone complaints was created in June by a panel of federal judges at the request of plaintiffs was sought a consolidation of all testosterone lawsuits filed in federal courts across the country. The judicial panel granted the request by transferring 45 testosterone complaints that were pending in four different federal courts across the country to the federal court in Northern Illinois. Court records for MDL 2545 show that the initial number of 45 lawsuits has more than tripled to 177 testosterone replacement therapy lawsuits pending litigation, as of August 15, 2014. The low testosterone treatment lawsuits are filed against various companies that manufacture and market testosterone replacement therapy products.
[jpml.uscourts.gov/sites/jpml/files/MDL-2545-Initial_Transfer-05-14.pdf, June 6, 2014]
[jpml.uscourts.gov/sites/jpml/files/Pending_MDL_Dockets_By_District-August-15-2014.pdf, August 15, 2014]
Wright & Schulte LLC notes that court records show testosterone therapy lawsuits have been mounting since the U.S. Food & Drug Administration (FDA) announced in January that it was investigating the risk of stroke, heart attack, and death in men taking FDA-approved testosterone products for hypoganadism, which is low testosterone levels in men due to an underlying medical condition. As part of its ongoing reassessment of low testosterone replacement drugs, the FDA is convening a meeting of two of its advisory committees on September 17 and 18. The The Bone, Reproductive and Urologic Drugs Advisory Committee and the Drug Safety and Risk Management Advisory Committee are scheduled to discuss issues surrounding testosterone treatment, such as what is the appropriate patient population for testosterone replacement therapy, and the potential risk of major cardiovascular events associated with using testosterone medication.
[fda.gov/Drugs/DrugSafety/ucm383904.htm, January 31, 2014] [fda.gov/downloads/AdvisoryCommittees/CommitteesMeetingMaterials/Drugs/ReproductiveHealthDrugsAdvisoryCommittee/UCM412536.pdf, August 22, 2014]
The FDA said it decided to re-evaluate the safety and effectiveness of testosterone products after reviewing two observational studies. A study published in the November 2013 Journal of the American Medical Association found that older men who had underlying cardiovascular disease and took low testosterone treatment had a 30 percent increased risk of having a stroke, heart attack or death compared to men who did not take the low testosterone medication. The second study reviewed by the FDA was published in the PLOS One Journal in January 2014. This study found that men over 65 and younger men with a pre-existing heart disease were at a greater risk of having a heart attack within the first 90 days after taking low testosterone drugs for the first time.
[plosone.org/article/info%3Adoi%2F10.1371%2Fjournal.pone.0085805, January 29, 2014] [jama.jamanetwork.com/article.aspx?articleid=1764051, November 6, 2013]
According to court records, a testosterone replacement therapy lawsuit was filed on September 3, 2014, in the U.S. District Court, Northern District of Illinois on behalf of a Colorado man who had a heart attack allegedly after using testosterone treatment therapy. (Case: 1:14-cv-06795) The complaint named as defendants, AbbVie Inc., and Abbott Laboratories, which manufactures and markets AndroGel; and Eli Lilly and Company, which manufactures and markets Axiron. According to the lawsuit, the Colorado man began taking Axiron in March 2013 after his doctor prescribed the testosterone medication to him. The next month, the man switched to taking AndroGel after his urologist prescribed this testosterone medication. The man continued to use AndroGel through June 2013. The testosterone lawsuit states that the man was hospitalized from June 15 to June 17, 2013 where he was diagnosed with a myocardial infarction (heart attack). The testosterone complaint alleges that the man's myocardial infarction was due to his use of AndroGel and Axiron. The complaint contends that the man continues to suffer physical impairment, requires medical monitoring relating to his injuries, and has other problems related to his injury. The lawsuit accuses the defendants of failing to adequately warn consumers and their health care providers about the cardiovascular risks of using testosterone medications, including AndroGel and Axiron. The testosterone complaint stated that had the man and his doctors knew about the true risks associated with testosterone medication use, he would not have taken AndroGel and Axiron, and would have been adequately monitored for the side-effects of the testosterone medications.
About Wright & Schulte LLC
Wright & Schulte LLC, an experienced personal injury firm, is dedicated to the belief that America's legal system should work for the people. Every day, the attorneys of Wright & Schulte LLC stand up for the rights of people who have been injured or wronged and fight tirelessly to ensure that even the world's most powerful corporations take responsibility for their actions. If you're looking for a law firm that will guarantee the aggressive and personal representation you deserve, please do not hesitate to contact Wright & Schulte LLC today. Free low testosterone lawsuit case evaluations are available through yourlegalhelp.com or by calling 1-800-399-0795.
Contact:
Wright & Schulte LLC
812 East National Road
Vandalia, Ohio 45377
1-800-399-0795
http://www.yourlegalhelp.com
Like us on Facebook
Follow us on Twitter
Join us on Google+