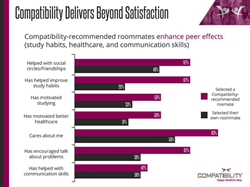 Different than Facebook where students tend to create profiles representing their 'ideal' rather than true selves, our tool explores deeper level characteristics with proven successful outcomes. Simply put, the e-Harmony of college roommate matching.
Chicago, IL (PRWEB) September 12, 2014
In the desperate search for the best college roommate, several tech products have cropped up eager to be the solution to millions of co-eds' prayers. The latest option is Roommate Connect©, a cloud-based cutting-edge technology that scores big in college roommate matching. Roommate Connect separates itself from its competitors by using a combination of artificial intelligence (AI = machine-run thinking), old-fashioned psychology and years of proven research to substantiate itself as the compatibility breakthrough software universities and commercial student housing companies can use and must have to help students instantly find strong roommate matches made in heaven.The first of four products offered by parent company, Compatibility®, LLC, an early stage start-up co-founded by Chicago business women Andrea Meltzer and Kim Rubenstein, a Doctor of Clinical Psychology.
Matching roommates according to similarities and differences, Roommate Connect promotes social and emotional development, as well as diversity and multi-cultural initiatives -- which federally and state-funded schools are held accountable for. Other roommate matching companies match only according to similarities. The predictive technology supports a student's commitment to early college engagement and success -- learning about the student by measuring likes, dislikes, behaviors, personality and interests, as opposed to traditional surface characteristics. The corresponding algorithm accurately suggests matches and provides tailored communication tools for each student.
Matching Compatible Roommates Results in Greater Student Satisfaction and Renewals
"We are excited to be the first company to create a technology that could learn from and about students, in order to help them make the most informed choices available. Different than a Facebook where students tend to create profiles representing their 'ideal' rather than 'true' selves, our tool explores deeper level characteristics that really matter and are correlated with proven successful roommate outcomes. Simply put, we are the e-Harmony of college roommate non-romantic relationship matching." -- co-founder and Chief Research and Product Officer, Dr. Kim Rubenstein
The Numbers Don't Lie*

1 in 5 students today leave college before completing their sophomore year.
81% of all students who completed the Roommate Connect program said it made them feel more engaged as an incoming student.
3 out of 4 students who chose a roommate based on Roommate Connect's recommendations felt like they had made the right choice.
91% of the students using the Roommate Connect Program to help select a roommate reported that it made them feel like their school sincerely cared about them.
Results based upon an in-depth study of findings of actual university students who were matched with the compatibility platform against those from the same incoming class that used alternative methods.
"We understand what makes relationships work. We're also the only company that provides students with the tools and feedback to make informed choices. When a young adult makes their own choices they are more likely to work harder to make a relationship work. They're also more likely to have a successful relationship with someone who isn't just like them." – co-founder and CEO, Andrea Meltzer
Initially beta-tested in 2011 by University of New Haven in Connecticut, the trial was so successful that the school began implementing the software right away as a benefit to its students' campus life experience.
Currently, Roommate Connect has arrangements with commercial student housing properties' Chicago-based Scion Group and Campus Suites, headquartered in Winter Garden, Florida. In April, the Scion Group, one of North America's leading owners, operators and advisers of student housing with nearly 16,000 beds serving 17 campus markets, announced a pilot program to implement Roommate Connect at a portion of its communities. Campus Suites, a leader with over 30 years of experience in the commercial student housing market, is currently in the process of developing more than 13,900 student housing and conventional bedroom suites throughout Canada and the United States. Compatibility has provided a French translation of the software to the company for this market.
Compatibility®, LLC is an early stage start-up technology company headquartered in Chicago that offers four software products geared for the higher education market. The company was co-founded by two business women, Andrea Meltzer and Kim Rubenstein, a Doctor of Clinical Psychology. Roommate Connect©, designed to improve resident satisfaction and reduce attrition by facilitating better roommate matching and enhancing harmonious relationships among roommates, is the first product to roll-out nationwide to universities and commercial student housing properties. Peer Connect©, Mentor Connect© and Social Connect© will begin to rollout later this year. Compatibility's headquarters is at 8650 N. Keeler Avenue, Skokie, IL 60076, Phone: 877.563.9297, info(at)compatibilityconnect(dot)com
-###-
Links:
https://www.youtube.com/watch?v=nPphtIH5cBs
http://www.compatibilityconnect.com
https://www.facebook.com/pages/Compatibility/459590680757626
https://twitter.com/StudentConnect (@studentconnect)