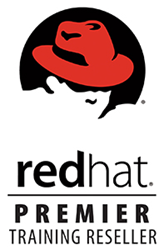 'We are very pleased to recognize ExitCertified with our Red Hat Training Director's Award for FY 2014' says Karl Reynolds, Director of Training. 'The Director's Award recognizes a combination of revenue achievement and dedication to customer service.'
Ottawa, Ontario (PRWEB) September 12, 2014
ExitCertified Corporation, a provider of certified IT training, announced today that it has been recognized for its achievements as a Red Hat Premier Training Partner. ExitCertified has been a Red Hat training partner for 8 years, delivering courses in Administration, Cloud, Developer, and JBoss Middleware.
"We are very pleased to recognize ExitCertified with our Red Hat Training Director's Award for FY 2014" says Karl Reynolds, Director of Training, Red Hat North America. "The Director's Award is an annual award recognizing a combination of revenue achievement, dedication to customer service, and a commitment to growing the Red Hat Training business in North America. ExitCertified is a tremendous partner and we look forward to our continuing success."
"Our partnership with Red Hat strengthens year over year as we continue to offer the full curriculum of Administration, Developer, Cloud and Middleware courses", adds Hees Ham, Partner, ExitCertified. "With the introduction of Red Hat Enterprise Linux 7, customers are anxious to take advantage of the improvements in reliability, performance and scalability, and we are ready to help them with the transition by providing the education needed to upgrade their knowledge and skills."
At the Red Hat partner conference awards dinner on September 3, 2014, two ExitCertified employees were also honored. Kevin Woodburn, Director Enterprise Sales, won the Red Hat Salesperson of the Year award on behalf of the ExitCertified Sales team and special thanks was given to Phil Savoie, Instructor at ExitCertified, for his contribution to training
See a list of currently scheduled Red Hat classes at http://www.exitcertified.com/training/redhat
ABOUT EXITCERTIFIED
ExitCertified is a provider of certified IT training in North America, authorized by hardware and software vendors including Red Hat, Oracle, Symantec, IBM, SAP, Apple, Hitachi, SpringSource, VMware, Cloudera and BMC Software. ExitCertified stands for Excellence in IT Certified Education, delivering a premium education experience in advanced technology fields. Training formats include Instructor-Led, Live Virtual, Self-Paced Online and CD/DVD. For more information about ExitCertified and its training offerings, visit http://www.exitcertified.com.
ABOUT RED HAT
Red Hat is the world's leading provider of open source software solutions, using a community-powered approach to reliable and high-performing cloud, Linux, middleware, storage and virtualization technologies. Red Hat also offers award-winning support, training, and consulting services. As the connective hub in a global network of enterprises, partners, and open source communities, Red Hat helps create relevant, innovative technologies that liberate resources for growth and prepare customers for the future of IT. Learn more at http://www.redhat.com.
Media Contact:
margot.menna(at)exitcertified(dot)com
(613)232-0445
http://www.exitcertified.com 1-800-803-3948
© Copyright ExitCertified Corporation, 2014. All rights reserved.
Red Hat is a trademark of Red Hat, Inc., registered in the U.S. and other countries.
MVP and iMVP are trademarks of ExitCertified Corporation.