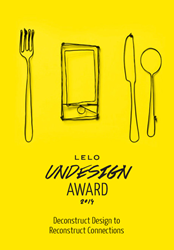 This year's winning designs prove that many of us desire to be closer and more connected and we all have the potential in our everyday lives to ensure we cultivate a society of connections, not just in the digital world but the physical too.
Stockholm/San Jose (PRWEB) September 12, 2014
The winners of LELO's Global UnDesign Awards have been announced with successful designs hailing from the USA, Brazil, Switzerland and Egypt, including an innovative group-emotion detector and touch-responsive underwear. Also enlightening were the winners' comments on the profound importance of staying connected in a world too often driven apart by ideologies, political conflicts, emotional security and even war itself.
The annual event created by LELO, the Swedish intimate lifestyle brand and recent winner for Product Design at the Cannes Lions 2014, challenged global designers to tear off the shackles of convention, and rethink the meaning of "good design" by encouraging genuine connections between people.
Over 500 entries were received from 55 countries but only 15 designs made the final cut. They were put to the jury of the public, with 23,000 votes cast, and an internationally recognized design panel who selected the 3 winners across 3 categories.
LELO CEO Miroslav Slavic said: "I'm proud LELO has put forth such a challenging design concept and the sheer volume of entrants this year shows that we evoked a strong emotion in today's designers. They too must feel that somewhere between form and function, style and substance, modern design can lose that crucial element of humanity; a fundamental need for intimacy."
The first category, Technology, Products & Spaces, was won by a group of 6 Egyptian architect students for their creation, KIWARS; a group-emotion sensor that measures blood pressure and heart beats to calculate the average emotional feeling of a group of people. The "feeling" is then translated on a digital screen; shown by light, colors and vibrations and can be used at a larger scale in parks, hotel lobbies & public areas to measure the common feeling of any number of people.
The group was made up of Mahmood kamal (21), Mohamed Elkady (21), Yasmine Ibrahim (21), Sarah Osman Aita (21), Yomna Yasser Elghazouly (20) and they commented on their design saying: "Egypt today suffers from different ideologies and political conflicts. The only thing that's in common between Egyptians is their feelings towards their country so we thought we should connect between people with the only thing that doesn't change no matter what".
The next category, awarded for Fashion & Accessories was scooped up by Brazilian designer Aline Darc Piculo dos Santos (22) for her creation, Toque (Portuguese for touch). Based in California, Dos Santos' design is for a lingerie collection featuring a micro sensor of touch that lights up when someone touches it and connects couples during intimate moments.
Dos Santos when asked about her work said: "I want my designs to make a difference in someone's life, to make it better. Besides that, I think my personal experiences make my designs different. In matters of intimacy, I think my country [Brazil] deals with that very openly when compared with other countries."
The final winner, in the Graphic, Illustration & Painting category, was Switzerland based Ana D'Apuzzo (35) for her collection of paintings entitled Helios. The series is dedicated to the Sun; celebrating its Energy, Love and Life and its connection with humans and nature.
D'Apuzzo said: "I experienced the bad side of life growing up in war circumstances (within the former-Yugoslavia), so I decided to show something that is above war and crimes and bad people; nature. After all we share the same sun and the same sky and we should respect the rhythm of the nature and follow it in our lives."
LELO CEO Miroslav Slavic added: "This year's winning designs prove that many of us desire to be closer and more connected and we all have the potential in our everyday lives to ensure we cultivate a society of connections, not just in the digital world but the physical too."
All 3 winners will receive a $1000 cash prize, plus $300 worth of LELO products.
Visit http://www.lelo.com/award for more information and to see all winning designs.
Images of the winning designs can be accessed here: http://we.tl/9mN7wPEZ26
Notes to the Editor:
The annual UnDesign Awards, was launched in 2013 by the world leaders in pleasure and intimacy, Swedish-based design brand LELO and recent winner of a Cannes Lions award for Product Design with ORA. The ambition is to energize and inspire people to look again at the way design and technology has the potential to erode our concept of human connectedness and find solutions to make life better for all.
Please contact Kathryn.catney@lelo.com for additional information on the winners and to arrange interviews with the winners.
Note to Editors: All media inquiries can be directed to pr@lelo.com
LELO is the world's leading designer brand for intimate lifestyle products. On launching in 2003, LELO transformed the look, feel and function of how personal massagers were perceived, and now applies the same commitment to quality and innovation through bedroom accessories, soy massage candles and a premium line of silk intimate apparel. LELOi AB is the Swedish company behind LELO, where offices extend from Stockholm to San Jose, from Sydney to Shanghai.