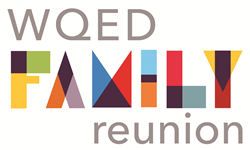 Pittsburgh, Pennsylvania (PRWEB) September 12, 2014
WQED was the nation's first community-supported public television station. Since it went on the air in 1954, thousands of people have worked at WQED, the former WQEX, Classical WQED-FM or Pittsburgh Magazine. All alumni are invited to the first-ever "WQED Family Reunion" on Saturday, October 18, 2014 at WQED's studios from 5:00 p.m. to 9:00 p.m.
Celebrating its 60th birthday this year, WQED has produced a long list of quality programming for the Public Broadcasting Service (PBS), once known as PBS' third largest program producer. Many of the producers, directors and program managers from those 60 years have gone on to Hollywood careers and are returning to the place where they got their start for the Family Reunion. Here are just a few:
Best known as the director of 86 episodes of "Seinfeld," Tom Cherones will be returning to WQED where he production managed and directed television programing in the 70s. Mr. Cherones' credits also include General Hospital, Welcome Back, Kotter, Growing Pains, The Academy Awards, Sister Sam, Ellen, Caroline in the City, Newsradio and much more. He received the Director's Guild of America Outstanding Comedy Director award and an Emmy for Seinfeld.
Charlie Hauck left WQED in 1974 for Los Angeles to begin a career in television comedy. He wrote for shows like Maude, MASH, One Day at a Time, Home Improvement, and Frasier. He created, wrote and produced seven half-hour comedy series that have appeared on CBS, ABC and NBC. His novel Artistic Differences was named one of the top ten novels of the year by the Washington Post and one of the five best books about television by The Wall St. Journal.
James Tripp-Haith left WQED in 1978 to begin a career as a producer, director and production manager. He produced sitcoms, 66 episodes of EVE and 85 episodes of Moesha in Los Angeles. He's also worked on The Ricky Smiley Show, Gas, Big Black Comedy Show, for Steve Harvey, Mike Epps and Sinbad and is currently producing Let's Stay Together for BET.
Michael Maskarinec, noted graphic and creative artist and WQED alumnus, created the WQED Family Reunion logo. He is known for his work with the New York Philharmonic, PPG Industries, Highmark Foundation, University of Pittsburgh and much more.
The WQED Family Reunion Committee is searching for all alumni to join the family reunion. For more information, please call Suzi Neft at (412) 721-4320, go to our web site at http://www.wqedreunion.wordpress.com or our Facebook invitation page at https://www.facebook.com/events/653323511412013.