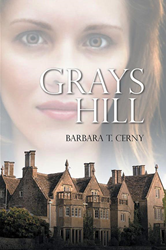 Their personalities are like oil and water, but then they do say that opposites attract!
(PRWEB) September 12, 2014
A lady does not work. But Oksana Wallingford doesn't have the choice after her father, Baron Oscar Wallingford, commits suicide rather than face his gambling debts. To put food on the table and keep her younger brother, the new baron, in school, Oksana must find a position immediately.
When a friend finds her work as a nanny, it is just the opportunity Oksana needs. But what she didn't count on was the explosive relationship she faces with her new employer, the recently widowed Duke of Essex. Their personalities are like oil and water, but then they do say that opposites attract! Their mutual animosity slowly changes into something more. Oksana wonders what future they could possibly have when the duke has sworn off another marriage.
As the mismatched couple struggles to come to terms with their situation, a disaster throws everyone's lives into chaos. "Grays Hill" is a historical romance that's pitch perfect!
About the Author
Barbara T. Cerny grew up in Grand Junction, Colorado, which at that time was a small town of 30,000 people. She left that little burg to see the world, garner three college degrees, and to serve in the U.S. Army. After eight years on active duty and 14 years in the reserves, she retired as a lieutenant colonel in 2007. While deployed to the Middle East in 2005, she finally figured out she had to get going on the real love of her life, writing. She wrote her first two novels during that time and hasn't stopped. She is presently working on novels number seven, eight, and nine. When not writing, the author works as an information technology specialist and supervisor for the U.S. Air Force. She lives with her loving husband, their two active teenagers, two needy cats, and two turtles. The turtles patiently watch her write and listen to her intently as she discusses plot lines with them.
Book Details
Genre: Fiction / Historical Romance
Author: Barbara T. Cerny
Format: Hardcover and Paperback, 280 pages
Pub date: August 2014
"GRAYS HILL" (Hardcover ISBN: 978-1-60911-303-2, $27.50; Trade Paperback ISBN: 978-1-63135-342-0, $14.95; and eBook) is now available and can be ordered through the publisher's website:
http://sbpra.com/BarbaraTCerny, Amazon, or the website of Barnes and Noble.
Track more about the author and her work at http://barbaracernybooks.wordpress.com or on Twitter @cernybt
WHOLESALERS: This book is distributed by Ingram Books and other wholesale distributors. Contact your representative with the ISBN for purchase. Wholesale purchase for retailers, universities, libraries, and other organizations is also available through the publisher; please email bookorder(at)sbpra(dot)net.
Strategic Book Publishing and Rights Co, LLC