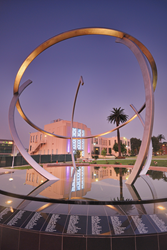 Loma Linda, CA (PRWEB) September 11, 2014
Loma Linda University topped all other colleges and universities in the nation for graduates who find meaning in their work, based on a survey of 1.4 million college and university alumni, according to PayScale.com.
Every year, PayScale, an organization that provides salary, benefits and compensation information, surveys alumni from over 1,000 U.S. colleges and universities. In addition to collecting data on income, the company also asks: Does your work make the world a better place? This year, Loma Linda University ranked in the Number 1 spot; 91 percent of Loma Linda University graduates said working in their jobs helped to "make the world a better place."
In the same survey, Loma Linda University was also ranked among the top for the highest starting salary.
The Atlantic magazine featured Loma Linda University and the rankings in a story: http://www.theatlantic.com/business/archive/2014/09/which-colleges-produce-grads-who-find-meaning-in-their-work/379910/
The Washington Post covered the story, as well: http://www.washingtonpost.com/news/rampage/wp/2014/09/11/top-colleges-for-producing-graduates-who-make-the-world-a-better-place/
"I'm delighted by this ranking," said Richard H. Hart, MD, DrPH, president of Loma Linda University Health. "As our alumni are living out our mission every day, bringing wholeness to all the ends of the earth, this recognition makes me proud of the heritage of our university, the spirit and dedication of our faculty and staff, and all of our medical professionals who train our students for lives of real service—locally, nationally and globally."
The ranking elevates Loma Linda far ahead of Ivy League schools such as Harvard, Yale and Princeton, often ranked in the top three spots on some college surveys. In the PayScale alumni survey on meaningful jobs, only about 65 percent of the three Ivies' alumni answered yes to the question.
The next two institutions were University of Texas Medical Branch in Galveston, Texas (88 percent) and Thomas Jefferson University in Philadelphia, Pennsylvania (86 percent).
About Loma Linda University Health (LLUH)
Loma Linda University Health includes Loma Linda University's eight professional schools, Loma Linda University Medical Center's six hospitals and more than 800 faculty physicians located in the Inland Empire of Southern California. Established in 1905, LLUH is a global leader in education, research and clinical care. It offers over 100 academic programs and provides quality health care to 40,000 inpatients and 1.5 million outpatients each year. A Seventh-day Adventist organization, LLUH is a faith-based health system with a mission "to continue the teaching and healing ministry of Jesus Christ."