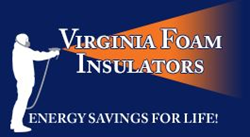 We do everything in our power to provide efficiency and convenience to those we work with.
Richmond, VA (PRWEB) September 11, 2014
Recently, the New Orleans's Saints of the National Football League moved into their brand new Spring training facility at the Green Brier Resort in White Sulphur Springs, WV. Construction of the facility and football fields were to take place over a 13 week period with the Saints arriving on July 24 to move into their new facility. Though time was limited, there was a great deal of work needed to complete a facility of this magnitude in such short order. Of the necessary requirements, one of the most pressing was installing insulation in the facility.
Given a four day window in which to work, insulation experts from Virginia Foam Insulators of Madison Heights, VA were called in by Long Construction Management of Lexington, KY to accomplish the time sensitive job. Working in coordination with Long Construction Management and numerous other electrical, mechanical, and paint contractors, VFI was able to safely and properly complete the installation within the required time period.
The task, impressive in its own right, required over 10,000 sq. feet of the training facilities corrugated metal ceilings to be coated in closed-cell polyurethane spray foam and spray applied thermal barrier coating. The Virginia Foam Insulators team completed their duty between the dates of June 30-July 3, adhering perfectly to the shockingly short time limit provided to them.
"When we receive a job, we make it our first priority to meet the customer's timeline – regardless of how difficult it may sound," says James Kuhn, President of Virginia Foam Insulators. "We do everything in our power to provide efficiency and convenience to those we work with."
Thanks to maintaining a strict and rigorous schedule, the Saints were able to arrive at the resort and begin Spring training without losing a single day. Football fans throughout Louisiana can rest easy knowing that their favorite team will be on the top of their game thanks to a few hard working men and women. Even Kuhn and his team are proud to know that one of America's most famous sports teams will benefit from their hard work and dedication.
It won't be much longer until autumn descends, ushering in the beginning of football season along with it. These last few weeks of practice are crucial to players, potentially making or breaking their careers. With the stakes so perilously high, there is no doubt that the Saints were grateful to be training in a well-insulated facility.
About Virginia Foam Insulators:
As the leading name in spray foam insulation, Virginia Foam Insulators has helped businesses and homes alike save money by improving the structural insulation of their home or office for nearly ten years. With a full range of products and systems such as, Open and Closed-Cell Polyurethane Foam Insulation, Injection Spray Foam, and Dense-Pak Fiberglass, you can trust that Virginia Foam has the quality insulation solutions your home or business needs.