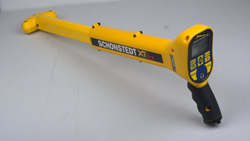 Lightweight and solid 512Hz digital locator with a graphic display and an audible tone.
(PRWEB) September 13, 2014
Medit Inc, one of North America's most trusted online suppliers of non-destructive testing equipment, proudly presents a new Detection Wand XT512 Portable Locator.
The portable locator boasts a lightweight, yet sturdy body, compact size, and one button depth measurement. The portable locator operates on the popular 512Hz frequency mode. Typically, the locator permits to read depths up to 2.5 meters (8 feet) depending on the strength of signal. The locator is equipped with an LCD display panel, which produces a clear digital readout. It also features as a graphic display and an audible tone.
"Detection Wand" XT512 digital locator is faster and far more precise than analog locators. Additional accessories such as a standard headset, noise cancelling headphones and different frequencies beacon are available with the wand. All this coupled with a special extended 3-year warranty makes Detection Wand XT512 portable locator a perfect choice for any pipeline or sewer inspection.
The "Detection Wand" XT512 portable locator is an ideal addition for the beacon equipped Trogloprobe or Viper-S pipe Inspection Camera System.