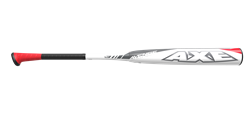 Axe Bats for baseball and softball are designed to fit ergonomically in a batter's hand, improving bat control and power transfer, while decreasing risk of injury.
Renton, Wash. (PRWEB) September 17, 2014
Baden Sports, Inc., today announced its full line of 2015 Axe™ Bats is available for pre-order at http://www.axebat.com. The Axe™ Bat is a revolutionary bat for baseball and softball. Its patented, axe-shaped handle features an oval bottom, angled knob and flush backside designed to fit ergonomically in a batter's hand. The design has been scientifically proven to give players better bat control, power transfer and acceleration, while also decreasing the risk of hamate bone and nerve injuries, when compared to traditional bats with round knobs and handles.1 The Axe™ Bat is approved for play at all amateur and professional levels of baseball and softball, and has been used in the Major Leagues.
"We're excited to make available our 2015 lineup to players across the country," said Hugh Tompkins, Director of Research & Development, Baden Sports. "The depth and quality of our Axe Bat lineup is better than ever and we're looking forward to even more players experiencing the unique performance advantages provided by our handle design and barrel construction."
Headlining the nearly two dozen Axe™ Bats available today for pre-order is the Avenge™ series for baseball, slowpitch and fastpitch. The Avenge™ L140B, L141B and L142B for adult, senior youth and youth baseball, respectively, all feature a two-piece composite construction with lightweight handles, and barrels made from improved BCP™ composite. The flagship Avenge™ L140B is the industry's first and only BBCOR-certified bat with an asymmetric barrel, and includes Baden's next-generation, asymmetric carbon ring (ACR™) insert for improved durability and performance with one-sided hitting.
Other noteworthy baseball bats include the Phenom™ L135B, a one-piece aluminum youth model representing best-in-class value, and the Hard Maple Composite L120, a new youth model for 2015 made from a single billet of pro-grade maple and featuring a carbon connector between the barrel and the composite foam handle for increased durability.
The Avenge™ L150B for fastpitch and the Avenge™ Slowpitch USSSA L154A highlight the latest in softball bat technology. Both are two-piece composite models with barrels made from improved BCP™ composite material and a new Plus-Plus™ composite construction that utilizes varied wall thicknesses and slip-planes to support one-sided hitting, thereby increasing performance and durability. Avenge™ slowpitch bats also feature a slightly modified handle design, with a thinner knob and shorter oval bottom, engineered to accommodate grip preferences common to the sport.
New across the entire line for 2015 is a thinner, more durable grip tape with a hexagon pattern, as well as updated graphics and colors – notably, the Danielle Lawrie Fastpitch L136B bat in mint green, a color chosen through fan voting on Facebook last year.
The full line of 2015 Axe™ Bats can be previewed and pre-ordered at http://www.axebat.com, with availability for most starting Oct. 1. All non-wood composite and aluminum Axe™ Bats carry a one-year warranty and a 30-day, money-back guarantee.
1 Biomechanical Study of the New Axe Handle Baseball Bats and Comparison with Standard Round Knob Bats, Vijay Gupta, Ph.D.: http://cdn.shopify.com/s/files/1/0134/8092/t/5/assets/AXE_Bat_Study_4_10_14.pdf
About Baden Sports
Baden Sports, Inc., an independent, family-owned company based in Renton, Wash., is a designer and producer of the highest-quality athletic balls. Baden also manufacturers the new Axe™ Bat line of high-performance baseball and softball bats. For 35 years, Baden's product innovation and leadership have led conferences, programs and coaches at all levels to choose Baden as their official ball. For more information, visit the Axe Bat website, Facebook (Axe Bat Baseball, Axe Bat Fastpitch, Axe Bat Slowpitch) and Twitter pages.