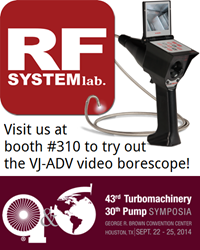 (PRWEB) September 12, 2014
For the third year in a row, RF System Lab will be exhibiting at the Turbomachinery and Pump Symposia (better known as the Turbo & Pump Symposia). The Symposia, which is taking place at the George R. Brown Convention Center in Houston, TX from September 22-25, 2014, brings together professionals from the petrochemical, process, chemical utility, and rotating equipment industries the world over.
This year's event features tutorials, case studies, lectures, courses and exhibits showcasing the latest services and products for the industry. As stated by the event website, "the Symposia is an outstanding value for users concerned with maintenance, performance, troubleshooting, operation and purchase of rotating equipment."
Borescope expert Casey O'Tool will be representing RF System Lab in the exhibit hall at booth #1335. He will be offering free demos of the VJ-Advance (VJ-ADV) articulating video borescope and answering questions about how the joystick-controlled, 4-way articulating VJ-ADV can help maintenance professionals confidently complete pump and rotating equipment inspections. RF System Lab understands that in the petrochemical and power generation industries, the cost of downtime -- whether because of an equipment failure or scheduled maintenance – is measured in hours, not days. Whether you work on compressors, pumps, valves, heat exchangers – even mud motors – the VJ-Advance's numerous features can make your job faster and easier.
RF System Lab offers the industry's only no cost, no obligation borescope trial. The company will send you the VJ-Advance video borescope so that you can use it while completing inspections in your own facility in order to be sure that it suits all of your requirements. Visit Casey O'Tool at booth #1335 starting at 11:00am on Monday, September 23rd, or contact RF System Lab today at (855) 787-6966, to arrange to receive your demonstration unit.
RF System Lab is a worldwide leader in remote visual inspection and video borescope technology. RF manufactures the fully-articulating (360 degree) VJ-Advance (VJ-ADV) video borescope; available in 2.8mm, 3.9mm, or 6.9mm insertion tube diameters. The VJ-ADV delivers the ideal features sought after by industry professionals. RF System Lab offers an industry-first no obligation, demo program to allow companies to test drive the VJ-Advance by doing real-world inspections at their own facility, for free.