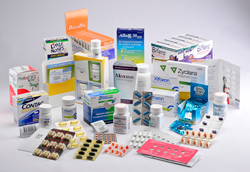 Norris, TN (PRWEB) September 16, 2014
Pharma Packaging Solutions announced today several new initiatives to position themselves for their 89th year in business. Adding serialization capabilities for labeling and encoding, Pharma Packaging Solutions is preparing packaging operations changes including adding new hardware and software and new procedures. Establishing training and system validation based on current Good Manufacturing Practices (cGMP), Pharma Packaging Solutions will be ready to support emerging global regulations where unique item serialization and traceability is required.
Only recently, Pharma Packaging Solutions quadrupled their "wallet card" packaging capacity and earned F=1 classification on many of these new configurations. Other expanded capabilities include brite stock labeling, rest-of-world (ROW) packaging, parenteral labeling and vial packaging along with cold chain storage serving temperature-sensitive product packaging.
Company president, Reid Lederer, commented in a letter to customers recently, "We want to be clear about our focus for 2015 – you can rely on our increased capacity, our commitment to responsive delivery expectations, and our agility in meeting the custom needs of your business. We currently meet every standard, but our plans include expanding these systems to meet more of your future needs. ..In short, we value your customer loyalty and we are making the investments to keep it."
Customers are being notified of upcoming changes at upcoming tradeshows and events and the company plans to release white papers on some of these changes shortly.
###
About Pharma Packaging Solutions:
Pharma Packaging Solutions (PPS) is a turn-key contract packager and folding carton company, offering commercial packaging, product launches, stability services, cold chain packaging and product retain services to pharmaceutical, healthcare and food industries. A division of Carton Service, Inc., which has been in business since 1926, Pharma Packaging Solutions has two facilities exceeding 260,000 square feet in Norris, Tennessee and Shelby, Ohio. Approved by the DEA, FDA, and MHRA, Pharma Packaging Solutions employs rigorous QA processes and cGMP quality systems.
For more information about Pharma Packaging Solutions, please visit our website http://www.pharmapackagingsolutions.com or follow us on Twitter and Facebook.