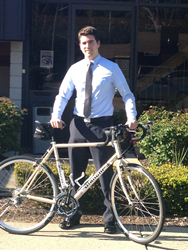 So far, no crashes or injures have been associated with this issue. If you think your bike might be affected, leave it at home until the repairs have been made.
Lansing, MI (PRWEB) September 12, 2014
Bicycle Accident Attorneys Sean Murphy and Jason Waechter, of bicycleaccidentlawyersusa.com, want to help spread the word to cyclists about a potential safety issue with Orbea's Avant road bikes and framesets.
Both Murphy and Waechter are committed to helping injured cyclists, and trying to prevent bicycle accident injuries whenever possible. "Hopefully, sharing recall information with as many people as possible will help to prevent a crash or an injury," says Murphy.
According to the Consumer Product Safety Commission (CPSC) website, Orbea is recalling these bikes because the front forks can crack, creating a fall risk for the rider. The recall affects the following Orbea products: all Avant bicycles and carbon framesets that were either sold with hydraulic disc brakes, or that are capable of being fitted with hydraulic disc brakes. Model numbers are not marked on the bicycles, but more detailed information about the recalled models is available via the CPSC website. These bikes were sold across the United States between August 2013 and June 2014.
"The good news here is that nobody has reported a crash or injury from this issue," says Murphy. "If you own one of the affected bikes, or think you might, we suggest that you stop riding immediately and get in touch with Orbea." Orbea will be installing a replacement fork for free on any affected bicycles. Riders who have been injured in a bicycle crash should contact an experienced attorney as soon as possible, especially if they believe that this recall issue, or any product flaw, may have caused their bicycle accident.
For more details on this recall and how to identify an affected bike, visit Orbea's Avant Support Centre website. You can also call them (from 8:30 AM to 5:30 PM EST, Monday to Friday) at 1-888-466-7232.
## ##
Attorneys Jason Waechter and Sean Murphy are Michigan attorney's specializing in bicycle accident and personal injury litigation. Waechter's firm has collected millions of dollars in settlements, awards, and verdicts for his clients over the last 20 years, as well as contributing significantly to safety education and accident prevention. For more information, visit their website at bicycleaccidentlawyersusa.com.