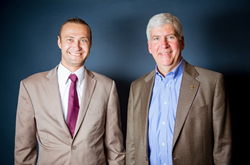 It gave me great pleasure that NobelBiz took part in this event, and seeing Governor's Snyder involvement and participation in our industry
Carlsbad, CA (PRWEB) September 13, 2014
Contact center industry leader NobelBiz, creator of the class-leading compliance suite and call center management solutions LocalTouch®, SingleTouch®, MobileTouch™, and RightTouch®, proudly announced that on September 3 John Stanovcak took part in a special ceremony that presented Michigan Governor Rick Snyder with a "Spirit of America" award.
The award was created by Jobs4America, a coalition of forward-looking business leaders committed to creating jobs in America. It was given to Governor Snyder in recognition of his administration's contribution to re-shoring over 100,000 customer service jobs across the US, including many in Michigan.
Governor Snyder was joined on stage at the ceremony in Michigan's Cascade Township by Doug Kearney, the CEO of Dialog Direct, which operates call centers across the nation including five in Michigan.
"It gave me great pleasure that NobelBiz took part in this event, and seeing Governor's Snyder involvement and participation in our industry," commented NobelBiz's President and COO Gordon Krass. "Contact centers are a big part of our economy, and it's important to support companies that keep on creating new jobs, such as Dialog Direct."
"It was an honor to represent NobelBiz at the award ceremony," commented NobelBiz's Strategic Account Manager John Stanovcak. "Governor Snyder and Doug Kearney both clearly understand what we at NobelBiz have been saying for years, which is that the right technology can help our workforce become globally competitive and even a world leader. That's the thinking behind our class-leading compliant suite and we're trusted by contact centers, call centers, and financial service companies across the country."
Call centers and collection agencies can learn more about how NobelBiz protects their business, reduces legwork, and helps them plan, launch and manage their successful contact center operation by visiting http://nobelbiz.com/what-we-do/nobelbiz-shield/
About NobelBiz
NobelBiz is a team of experienced professionals who are focused only on the contact center industry. Our customers rely on us to deliver the revenue-generating and compliant solutions that help drive their success. NobelBiz customers enjoy exclusive access to the best technology and infrastructure that the contact center industry has to offer. Our flagship product, LocalTouch®, is a patented, award-winning caller ID management solution within our suite of vetted, classing leading tools that also include SingleTouch®, MobileTouch™, and RightTouch®. As an industry leader, we offer the best contact center solutions available and support many of the largest companies requiring contact center solutions across the globe. Learn more at http://www.nobelbiz.com.