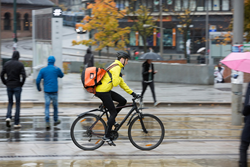 The New York City Department of Transportation reports that there were 3,872 bicycle accidents citywide in 2013 resulting in 12 fatalities and 3,884 injuries
New York, N.Y (PRWEB) September 12, 2014
A 25-year-old bicyclist was killed after a livery cab struck him at an East Harlem street intersection. According to an Aug. 18 news report on CBS Local's website, the bicyclist and driver were both traveling south on Park Avenue when the livery cab cut off the rider to make a left turn onto East 108th Street. The cab then struck the bicyclist, dragging the rider about 50 feet before finally coming to a stop, the article stated. The bicyclist was transported to a local hospital where he was pronounced dead, according to the report.
New York personal injury lawyer Kenneth A. Wilhelm said bicyclists face serious dangers on all roadways in New York City, especially at intersections. "Since many of the city's streets are crowded and narrow, the visibility of bicyclists to motorists sharing the road is a significant issue. In addition to the inherent dangers present in many of the city's thoroughfares, drivers who operate their vehicles recklessly or inattentively pose a definite and serious threat to the safety of bicyclists."
The New York City Department of Transportation reports that there were 3,872 bicycle accidents citywide in 2013 resulting in 12 fatalities and 3,884 injuries. Three fatalities and 1,176 injuries were reported as a result of bicycle accidents in Manhattan during the same year, the DOT report states.
Bicycle accidents often result in catastrophic or fatal injuries, Wilhelm said. "Our law firm has represented a number of bicycle accident victims who have suffered lifelong injuries and disabilities. We have also represented families that have lost loved ones in bicycle versus vehicle accidents. A number of these collisions occur at street intersections."
Here are Wilhelm's tips for bicyclists and motorists to avoid these tragic incidents at street intersections:

Bicyclists should increase visibility by adding front and rear lamps to the bicycle and by wearing reflective and bright-colored clothing.
Bicyclists and motorists would be well advised to drive or ride defensively, particularly at junctions and street intersections.
Learn to execute emergency maneuvers to avoid collisions.
Bicyclists and motorists should yield the right-of-way at intersections and obey traffic control devices such as red lights and stop signs.
Never drive or ride while under the influence, or while distracted or fatigued.
Contacting the Law Offices of Kenneth A. Wilhelm
For questions or comments please contact the Law Offices of Kenneth A. Wilhelm. Our New York personal injury attorneys can help victims and families with their bicycle or other traffic accident cases. We can also help with personal injury cases in New Jersey, Connecticut, Pennsylvania, or Florida.
The TOLL FREE phone numbers for us are:
1-800-WORK-4-YOU (1-800-967-5496),1-800-RADIO-LAW, 1-888-WYPADEK, OR 1-800-LAS-LEYES
The Law Offices of Kenneth A. Wilhelm
445 Park Ave, 9th Floor
New York, NY 10022
(212) 545-7373
Please visit us at: http://www.WORK4YOULAW.com