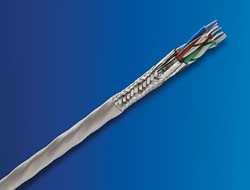 With decades of successful offerings in the civil and military aerospace industries, we understand the importance of reliability and aircraft availability.
(PRWEB) September 11, 2014
In response to the rapidly changing technology in today's aircraft, W. L. Gore & Associates is expanding its family of high-speed data cables for the aerospace industry. These products meet the industry's unique challenges to improve pilot communication and passenger in-flight entertainment while reducing downtime for maintenance and decreasing operating costs.
At the APEX (Airline Passenger Experience Association) Expo in Anaheim, California (September 15-18, 2014), Gore will be featuring its current proven product portfolio. Two highlights at the show include:

GORE™ Leaky Feeder Antennas, which provide reliable connectivity without requiring additional equipment to support signal propagation; these lightweight antennas enable passengers to connect to different wireless systems, including in-flight entertainment, picocells for mobile phone coverage, and access points for airborne Wi-Fi.
GORE® Microwave/RF Assemblies, engineered specifically for airframe microwave interconnects to provide reliable performance and reduce life-cycle costs; these revolutionary cables meet the stringent specifications of next-generation aircraft.
Gore will also be showing its latest developments in high-speed data transmission, which are scheduled for release in spring 2015:
GORE® Ethernet Cables Type Cat 6A support ANSI/TIA-568C.2 specifications up to 10 Gigabits per second (Gbits/sec). During testing, these lightweight cables maintained reliable signal transmission for up to 75 meters — enabling the industry to reduce the number of connects required in larger aircraft. Designed specifically to fit into size 8 OCT contacts, Gore's Cat 6A Ethernet cables are constructed with uniquely engineered fluoropolymers that improve durability and simplify routing.
Gore's advanced fiber optic cables have a more robust construction with a unique dual-buffering system that protects the fiber better during installation and service life. These cables withstand the extreme temperatures of flight with a verified performance over a wide range of temperatures. In addition, these durable fiber optic cables can reduce assembly time due to their low shrink-back jacket that reduce pre-assembly temperature cycling.
According to Adrian Milne, Gore's Global Product Manager for Civil Aerospace, their new product development team is focusing on providing cables that deliver the most reliable signal integrity in the challenging environments of aerospace. "With decades of successful offerings in the civil and military aerospace industries, we understand the importance of reliability and aircraft availability. The increase in data transmission — whether for flight information in the cockpit or in-flight entertainment for passengers — translates to more communication systems that need to be lightweight and reliable. The advanced materials that we have incorporated into our new products can significantly reduce cable weight compared to materials used in other cables available today, and the proven performance of our products enables our customers to decrease downtime and replacement costs."
For more information about Gore's full line of products for the aerospace industry, visit Booth 1827 at the APEX Show or online at http://www.gore.com/aerospace.
About W. L. Gore & Associates, Inc.
Gore is a technology-driven company focused on discovery and product innovation. Well known for waterproof, breathable GORE-TEX® fabric, the company's portfolio includes everything from high-performance fabrics and implantable medical devices to industrial manufacturing components and aerospace electronics. Founded in 1958 and headquartered in Newark, Del., Gore posts annual sales of more than $3.2 billion and employs approximately 10,000 associates with manufacturing facilities in the United States, Germany, the United Kingdom, Japan and China, and sales offices around the world. Gore is one of a select few companies to appear on all of the U.S. "100 Best Companies to Work For" lists since the rankings debuted in 1984. The company also appears regularly on similar lists around the world. Learn more at gore.com.
# # #