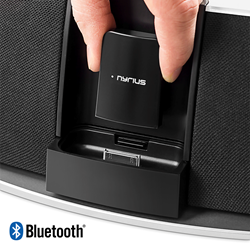 Niagara Falls, Ontario (PRWEB) September 12, 2014
Nyrius, a leader in wireless connectivity has launched the Songo® Link - a music receiver that allows users to stream music wirelessly from smartphones, tablets, and laptops to their 30-pin speaker dock using Bluetooth® technology.
Apple users that upgrade from an older model to an iPhone 5, or the soon to be released iPhone 6, will notice their speaker docks are incompatible with the latest generation iPhones. Apple's transition to the smaller lightning connector in favor of the larger 30-pin connection found in previous iPhone models has made many 30-pin docks seemingly obsolete. Songo Link solves this problem for music enthusiasts and lets listeners get back to enjoying their 30-pin speaker dock that many users have grown accustomed to.
The Link's simple plug n' play setup offers superior streaming technology which ensures that it delivers crystal clear, high fidelity music to stereo systems up to 33 feet. Bluetooth 3.0 with EDR (Enhanced Data Rate) ensures that users hear the music the way their favorite artist intended.
What makes the link even more appealing is that it isn't just limited to compatibility with Apple devices. Songo Link allows users to enjoy music stored on any Bluetooth audio device including Samsung, Android, iPhone, iPad, iPod, HTC, Blackberry, and virtually any of the other 900 million Bluetooth audio devices.
About NYRIUS®
NYRIUS® is a North American-based company that focuses on higher-end lifestyle electronics. Established in 2003 and based in Niagara Falls, Ontario, it markets to both USA and Canada. NYRIUS® products are sold through various distribution channels, which include mass merchants, electronic retailers, warehouse clubs, home improvement retailers, office supply retailers, direct response television, mail order catalogues, direct, online retailers, and through distributors worldwide. NYRIUS® products are on the cutting edge of technology and designed with ease of use, value, and performance in mind.