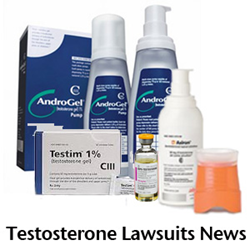 If your believe you have suffered cardiovascular problems due to Androgel, Testim, Androderm or other Testosterone Therapy Drugs Call Wright & Schulte today for a Free Legal Evaluation at 1-800-399-0795 or by visiting www.yourlegalhelp.com
Columbus, OH (PRWEB) September 13, 2014
As low testosterone lawsuit claims continue to increase, Wright & Schulte LLC notes two of the U.S. Food & Drug Administration (FDA) advisory committees will meet on September 17 and 18 to discuss controversial public health issues surrounding testosterone replacement therapy. The Bone, Reproductive and Urologic Drugs Advisory Committee and the Drug Safety and Risk Management Advisory Committee will tackle the issues of identifying the appropriate patient population for testosterone replacement therapy and the potential risk of major cardiovascular events associated with the use of such testosterone drugs as AndroGel, Androderm and Testim. Cardiovascular events, such as heart attacks, strokes, blood clots and death have been alleged in testosterone side-effects lawsuits that are pending in the U.S. District Court, Northern District of Illinois where they have been consolidated for pretrial proceedings. (In re: Testosterone Replacement Therapy Product Liability Litigation – MDL No. 2545) As of August 15, there are 177 testosterone lawsuits pending against various testosterone manufacturers filed on behalf of men who contend that they have suffered injuries due to taking testosterone replacement medication.
[fda.gov/downloads/AdvisoryCommittees
/CommitteesMeetingMaterials/Drugs
/ReproductiveHealthDrugsAdvisoryCommittee
/UCM412536.pdf, August 22, 2014]
[jpml.uscourts.gov/sites/jpml/files
/Pending_MDL_Dockets_By_District-August-15-2014.pdf, August 15, 2014]
The firm continues to speak with men who believe they have suffered heart attacks or strokes after using testosterone therapy drugs. If you have experienced cardiac side-effects after taking "Low-T" drugs such as AndroGel, Androderm and Testim contact one of our attorneys for a free legal consultation by calling 1-800-399-0795 or visit http://www.yourlegalhelp.com for more information on testosterone lawsuit claims.
According to background material the FDA prepared in advance of the meeting, the federal agency will ask its joint committees whether the available scientific evidence supports the benefits of testosterone treatment in the patients currently being treated for low testosterone. Panel members will also be asked for their opinion on whether there are potential cardiovascular risks attributable to testosterone therapy. If it is determined that there is a link between testosterone replacement medication and adverse cardiovascular events, the panel will be asked how best to further evaluate the cardiovascular risk. The FDA's advisory committees provide expert advice to the federal agency on a range of complex issues, including questions related to the development and evaluation of
FDA-regulated products. According to the FDA, its advisory committees are a "valuable resource" and make important contributions to the agency's decision-making processes.
[fda.gov/downloads/AdvisoryCommittees/CommitteesMeetingMaterials/Drugs/ReproductiveHealthDrugsAdvisoryCommittee/UCM412536.pdf, August 22, 2014]
[fda.gov/ForConsumers/ConsumerUpdates/ucm048040.htm, December 7, 2013]
The FDA said its rationale for convening the meeting is based on the agency's re-evaluation of FDA-approved prescription testosterone products, such as Depo-Testosterone, Axiron, and Delatestryl. In January, the FDA announced that after reviewing two studies, it was launching an investigation into drugs used to treat hypoganadism, which is low testosterone levels in men due to an underlying medical condition. The first study published in the November 2013 Journal of the American Medical Association, found that older men who had underlying cardiovascular disease and took low testosterone treatment had a 30 percent increased risk of having a stroke, heart attack or death compared to men who did not take the low testosterone medication. The second study published in the PLOS One Journal on January 29, 2014, found that men over 65 and younger men with a pre-existing heart disease were at a greater risk of having a heart attack within the first 90 days after taking low testosterone drugs for the first time. [fda.gov/Drugs/DrugSafety/ucm383904.htm, January 31, 2014] [plosone.org/article/info%3Adoi%2F10.1371%2Fjournal.pone.0085805, January 29, 2014] [jama.jamanetwork.com/article.aspx?articleid=1764051, November 6, 2013]
In another action related to regulation of testosterone replacement therapy drugs, the FDA in June ordered manufactuers of all FDA-approved testosterone replacement therapy medications to include a general warning on their drug labels about the risk of blood clots developing in veins as a result of using low testosterone treatment medication. Testosterone drug labels already had a warning about venous blood clots as a result of polycythemia, an abnormal increase in the number of red blood cells that sometimes occurs with testosterone treatment. According to the FDA, post-market reports showed blood clots are occurring that are unrelated to polycythemia.
[fda.gov/drugs/drugsafety/ucm401746.htm, June 19, 2014]
Court records indicate that a Case Management Conference for testosterone lawsuit claims (MDL 2545) was held in August in which attorneys for plaintiffs and defendants discussed procedures for the discovery phase of the testosterone litigation pending in the Northern Illinois federal court. The parties also discussed collaborating with state courts that are handling testosterone litigation. The Philadelphia Court of Common Pleas is one state court in which a testosterone lawsuit was filed. In May 8, a testosterone claimed was filed on behalf of a Georgia man who alleges that he suffered a heart attack as a result of using Fortesta testosterone gel. (Taylor et al v. Endo Pharmaceuticals Inc., Case number 140500775) The testosterone lawsuit purports that the defendants, Endo Pharmaceuticals Inc. and Prostrakan Group PLC, which markets and manufactures Fortesta, knew about the dangers associated with the testosterone gel, but failed to disclose the risk of heart attacks and other cardiovascular problems associated with taking the testosterone treatment drug.
About Wright & Schulte LLC
Wright & Schulte LLC, an experienced personal injury firm, is dedicated to the belief that America's legal system should work for the people. Every day, the attorneys of Wright & Schulte LLC stand up for the rights of people who have been injured or wronged and fight tirelessly to ensure that even the world's most powerful corporations take responsibility for their actions. If you're looking for a law firm that will guarantee the aggressive and personal representation you deserve, please do not hesitate to contact Wright & Schulte LLC today. Free low testosterone lawsuit case evaluations are available through yourlegalhelp.com or by calling 1-800-399-0795.
Contact:
Wright & Schulte LLC
812 East National Road
Vandalia, Ohio 45377
1-800-399-0795
http://www.yourlegalhelp.com
Like us on Facebook
Follow us on Twitter
Join us on Google+